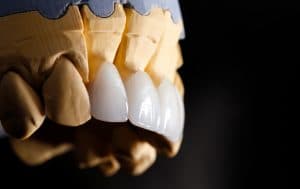 Sometimes a restoration helps fix a cavity, such as a filling. Others can repair serious damage, such as a crown. In today's blog however, your El Paso, TX, dentists will highlight a unique restoration that is designed to improve smile beauty. Learn how we use one or more custom porcelain veneers to help improve the shade and shape of your teeth.
How Do Veneers Improve Smile Beauty?
A veneer doesn't cover a tooth or target a specific area of structure. Instead, these thin restorations actually cover the front and the sides of the teeth, instantly changing the shape and color of the most visible portions. When in place, they can mask permanent discoloration, a type of tooth stain that forms beneath the outer enamel and that may be difficult for whitening to remove. We also use them to lengthen worn down teeth and provide repairs for minor chips and cracks. They can reshape misshapen or malformed teeth, and also close gaps between them. If you have minor misalignment, we can place several to correct the appearance of the alignment, providing an alternative to braces or aligners.
Is Each One Custom-Made?
Yes! Being custom-made ensures a lifelike appearance, a comfortable fit, and the ability to reflect your unique facial structure. To start, we need to make room by removing a thin layer of outer enamel. Next, we take detailed impressions of your teeth and use the information to design and fabricate them. When complete, we place them with a powerful bonding agent, the same used to secure crowns for decades. The porcelain we craft them from is not only stain-resistant, but is also translucent like tooth enamel and can be shaded to match the color of adjacent teeth. The material is also strong and able to absorb daily bite forces.
Do They Require Special Maintenance?
No, you simply care for your newly repaired teeth as you would the other, which helps protect them from tooth decay and gum disease, factors that could impact stability. You should brush your teeth twice a day for two minutes and floss every night before going to bed. Every six months, make an appointment so we can examine your smile and then clean your teeth, removing harmful plaque and tartar buildup. If you have any questions about our cosmetic treatment options, or if you're ready to schedule a consultation and see if you benefit from porcelain veneers, then contact our team today.
TALK TO SUNNY SMILES IN EL PASO, TX ABOUT OUR COSMETIC TREATMENTS
At Sunny Smiles in El Paso, TX, we're here to help you enjoy your most attractive smile. For more information on cosmetic treatment options, contact your El Paso, TX, dentists at Sunny Smiles on Dyer Street by calling 915-859-7000.