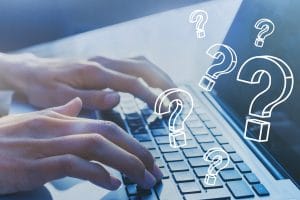 Cosmetic dentistry allows our team to target and correct esthetic issues with the appearance of your teeth, from discoloration to issues with the shape or even alignment. In today's blog, your El Paso, TX, dentists are going to take a look at how porcelain veneers in particular offer drastic smile improvement.
Frequently Asked Questions About Cosmetic Veneers
Question: Who qualifies for them?
Answer: We recommend them for people with multiple esthetic concerns. To see if you're a good candidate for this treatment option, we will schedule a consultation and then carefully examine your teeth to identify the cause of your esthetic concerns and to also assess the severity. If we find that porcelain veneers are the optimal choice to correct your cosmetic concerns, we can discuss treatment and answer any questions or concerns you may have!
Question: How do you create them?
Answer: To start, we need to make room for them, which means we remove a thin layer of outer enamel. Next, we take detailed impressions and images of the tooth, which allows our team to design and craft your custom veneer. When you return for a second visit, we will check the fit and then place them with a powerful bonding agent. They can stay in place for decades, possibly a lifetime, as long as you continue to maintain good oral hygiene. Remember the tooth they're attached to is still vulnerable to cavities, infection, and gum disease!
Question: How long do they last?
Answer: As we mentioned above, the teeth we attach them to could become loosened or lost as a result of advanced gum disease, known as periodontitis. Tooth decay could form that unless treated, could mean the onset of infection and again threaten the stability of your newly restored tooth. To ensure they last, take time to brush and floss daily. Be sure to see us every six months as well, so we can examine your entire smile for signs of trouble and offer treatment. We clean the teeth in the same visit, which helps reduce the risk of cavities and gum disease.
Question: What cosmetic problems can they fix?
Answer: By placing a veneer, we can instantly lengthen worn-down teeth and provide repair for minor chips and cracks. We can close gaps between your teeth and even mask permanent teeth stains, the kind of discoloration that may not respond to teeth whitening. For those with minor misalignment, we can correct the appearance of the smile, offering an alternative to metal braces and other orthodontic options.
SUNNY SMILES IN EL PASO OFFERS COSMETIC DENTISTRY
At Sunny Smiles in El Paso, TX, our team provides treatments to improve the beauty and brightness of your smile. For more information on our cosmetic treatments, contact our N. Zaragoza dental practice by calling 915-849-9000.