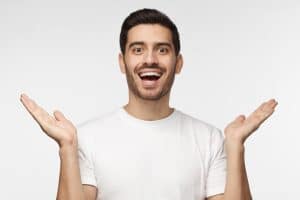 Improving smile beauty doesn't mean we have to use a number of different treatment options. In fact, your El Paso, TX, dentists often provide a stunning new smile with a single treatment option. In our latest blog, we're going to look at how we completely change a smile's appearance with the placement of one or more custom porcelain veneers.
What is a Veneer?
A veneer is a dental restoration, much like a crown, or an inlay or onlay. The difference is that veneers are meant to address esthetic issues alone, improving smile beauty. They are incredibly thin and cover the front and sides of the teeth. Placement means we can mask permanent teeth stains, which may not otherwise respond to teeth whitening techniques. Our team can also lengthen worn down or damaged teeth, repair minor chips or cracks, and close gaps between the teeth. For those with misshapen teeth, we can instantly improve the shape and surfaces, and also correct the appearance of misalignment.
Creating and Placing Them
The process of creating and placing them takes about two visits to complete. We start by removing a thin layer of tooth enamel and then taking detailed impressions and measurements. We use the information to design and craft the completed restoration from porcelain. Not only is porcelain strong and durable, but the material can be shaded to match the color of surrounding teeth and is also translucent like natural tooth enamel. Once we complete the restoration, you return to the office so we can place it with a powerful bonding agent.
Keeping Them Stain-Free
Even though porcelain contains stain-resistant properties, they can still become stained due to poor oral hygiene. In addition, the teeth we've attached them to are still vulnerable to tooth decay, infection, or gum disease. To ensure your new restoration last for decades to come, you need to care for them as you would natural teeth. This means brushing them twice daily for two minutes, along with the rest of your smile, and flossing around them before bed each night. In addition, make time to see us every six months so we can monitor your smile, watching your teeth and gums for common signs of trouble. We can also clean your teeth to remove plaque and protect your smile from cavities, gum disease, discoloration, and more! If you have any questions, then please contact our team today.
TALK TO SUNNY SMILES IN EL PASO ABOUT LIFELIKE VENEERS
At Sunny Smiles in El Paso, TX, our team understands the benefits and importance of a brighter and attractive smile. If you have questions about our approach to esthetic smile treatments, then you can reach our East El Paso dental practice on 10039 Dyer St., at 915-859-7000!