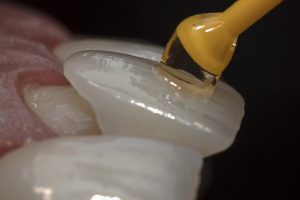 We often work with patients that have always dreamed of a complete smile transformation, addressing the issues with the shape, alignment, and color of the teeth at once. With porcelain veneers, we can do just that in as little as two visits. In today's blog, your El Paso, TX, dentists can improve smile beauty with our custom and long-lasting porcelain veneers.
What Issues Will They Address?
Since a custom veneer actually covers the front and sides of the teeth, we can correct a number of common esthetic issues. For example, we can mask permanent teeth stains. Also known as intrinsic discoloration, these stains form below the enamel and may be difficult to remove with teeth whitening. Placement also lengthens worn down teeth and corrects chips and cracks. We can close gaps between your teeth and even correct the appearance of minor misalignment. If you have misshapen teeth, we can fix this as well!
How Do You Place Them?
Each one is custom-made, which ensures a comfortable fit and lifelike appearance. To get started, we will first remove a thin layer of enamel and take detailed impressions and images of your tooth or teeth. We use the images to design and craft your restorations from porcelain, a powerful material that contains stain-resistant properties and can be shaded to match the color of surrounding teeth. When we complete them, you return for a second visit so we can place them with a powerful bonding agent. Your veneers can last for decades with proper care and attention, so be sure you brush and floss daily, and make time to see us for routine checkups and cleanings every six months.
Combining Them With Other Cosmetic Treatments
We may begin treatment by whitening your teeth to remove stains and ensure your new restorations match your brightest possible smile. For a more cost-effective transformation, our team can also use dental bonding to mask stains and correct issues with shape for the side and rear teeth, reserving the veneers for the front-facing and more visible portions of your smile. We can also discuss combining them with clear aligners and other treatments to help transform your smile and address multiple issues at once. If you want to learn more about our cosmetic treatment options, then contact our team today. We would love to help you enjoy a beautiful and healthy smile, one you'll be eager to show off in your holiday pictures or office parties!
SUNNY SMILES IN EL PASO BRIGHTENS SMILES
At Sunny Smiles in El Paso, TX, we can improve smile beauty and address multiple concerns in just two visits. If you have question about our cosmetic dental restorations then please call our East El Paso location on N. Zaragoza Road at 915-849-9000!