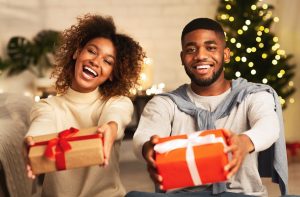 The holiday season will be here before you know it! Which means if you want to attend your holiday gatherings with a brighter smile, then now is the time to see your El Paso, TX, dentists for teeth whitening. In today's blog, we're going to look at how we remove stains with professional treatments.
Whiten Your Smile In-Office
Our in-office procedure not only brightens teeth, but does so in less than two hours. To begin, we will place a protective covering over your lips and your gums. Next, we apply the bleaching gel to the teeth. A curing light is then used to activate the gel and begin breaking up the stains. This option is great for people who need fast results!
Our Home-Based Treatment Option
For more substantial results, and reduced tooth sensitivity, then you may consider our at-home option. You first visit our office so we can take detailed impressions of your smile to craft a set of trays from a special plastic material. The trays will fit comfortably and ensure the bleaching gel we prescribe spreads evenly across the teeth. At home, you fill the trays with gel and wear them for between 30 and 45 minutes each day. Over the course of about a week to ten days, the treatment will help break up teeth stains and brighten smiles by several shades. In order to help your results last, regardless of which option we recommend, you should brush your teeth twice daily, floss before bed, and cut back on drinks with dark pigments (coffee, tea, red wine, and soda). You also benefit from fewer sugary and starchy foods, and routine visits for checkups and cleanings every six months!
Masking Intrinsic Discoloration
The above treatment options easily address extrinsic stains, meaning the discoloration that occurs on the surface of our teeth as a result of our oral hygiene habits and the foods and drinks we consume. However, intrinsic stains, which form beneath the enamel, may be difficult to remove. Instead, we may simply mask them with a cosmetic restoration. Dental bonding, employing the same material to place a tooth-colored filling, can mask these stains. Porcelain veneers, thin restorations created from lifelike porcelain, can also mask discoloration. We may even combine these two to offer a more cost-effective means of masking discoloration. If you have any questions about achieving brighter smiles, then contact our team today to learn more.
SUNNY SMILES IN EL PASO HELPS BRIGHTEN SMILES
At Sunny Smiles in El Paso, TX, our team would like to help you enjoy a brighter smile before your next holiday event. If you have question about cosmetic dentistry, then please call our East El Paso location on N. Zaragoza Road at 915-849-9000!