Cosmetic Improvement for Your Gum Line in El Paso, TX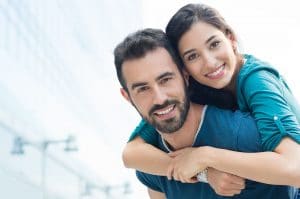 When the gums that surround your teeth aren't even, the rest of your smile can seem uneven as well. Teeth with too much gum tissue covering them can seem too small, or the ones next to them can appear too large. Fortunately, cosmetic gum contouring can correct this issue (commonly called a gummy smile) by gently reshaping your gums into a straighter and more symmetrical line. Whether performed solely to fix a gummy smile or as the finishing touch to a more complete smile makeover, gum contouring can provide the healthy and attractive gum line that your smile deserves.
When Gum Contouring Is Appropriate
A gummy smile can occur for many different reasons, from abnormal development to the use of certain medications, and more. In most cases, cosmetically contouring your gum line can correct the issue, and in doing so, improve your periodontal health, as well. To ensure that gum contouring is the right option for your smile, your dentist will first perform a comprehensive examination, including checking the health of your gums to ensure that gum disease isn't present.
Benefit from Cosmetic Gum Contouring
If your gums aren't as straight as they should be, then you may be able to correct them with the help of customized gum contouring. To learn if you can benefit from gum contouring, or to schedule an appointment, call the Sunny Smiles office nearest you in El Paso, TX, today! We have offices in East and Northeast El Paso, and happily welcome patients from all nearby communities, including Chaparral, Canutillo, Vinton, and Sunland Park, New Mexico.