Tooth Bonding and Contouring in El Paso, TX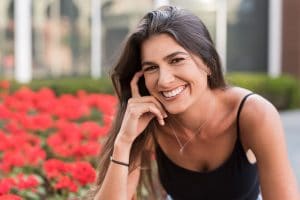 Every cosmetic dental treatment is designed to improve your smile's appearance. However, depending on your specific smile concerns, some treatments can do so while preserving your natural tooth structure better than others. For example, tooth bonding and contouring are minimally invasive procedures that focus on correcting the visible blemishes on your teeth with few or no changes to their structures. As a cosmetic solution, both treatments offer highly effective results, while also helping you optimize your long-term oral health.
To Bond or Contour a Tooth
Bonding a tooth means applying tooth-colored composite resin to a specific area of its surface, such as a crack, chip, severe discoloration, or more. Your dentist applies the resin to match the ideal shape of your tooth, then sculpts and hardens it to create a lifelike finish. Contouring a tooth describes sculpting a small part of its outer surface to smooth out a jagged edge, correct an overlapping one, or improve a tooth that seems irregularly shaped. Choosing the right treatment depends on your specific needs, though many patients benefit from complete smile improvement through a combination of both bonding and contouring.
Fix Your Smile with Conservative Treatment
By bonding and/or contouring a tooth, your dentist can improve your entire smile while preserving most or all of your healthy, natural tooth structure. To learn if bonding and/or contouring is your best smile improvement option, or to schedule an appointment, call the Sunny Smiles office nearest you in El Paso, TX, today! We have offices in East and Northeast El Paso, and happily welcome patients from all nearby communities, including Chaparral, Canutillo, Vinton, and Sunland Park, New Mexico.