Place and Restore Your Implants in One Day in El Paso, TX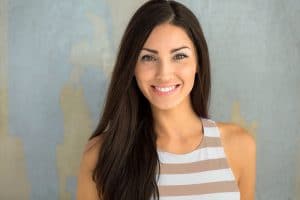 Dental implants are often the most effective way to rebuild and preserve your smile following the loss of one or more teeth. That's because implants are the only way to address the loss of your teeth roots, and stem related complications, such as jawbone erosion. They do this by being biocompatible, meaning your jawbone fuses to the implant posts as it heals. This healing process, known as osseointegration, usually takes up to 4-6 months, and traditionally, the restoration isn't placed on the implant posts until it is complete. However, with same-day implants, we can place your dental implants and load them with the appropriate permanent restoration all in the same visit.
The Benefits of Same-Day Implants
With same-day dental implants, you can have your dental implant posts placed and loaded with your custom restoration in a fraction of the time that traditional dental implants take. This means fewer visits to our office during the course of your treatment, and a faster smile restoration process. The ability to have your dental implants placed and loaded with a custom restoration all in a single day can prove beneficial in many different ways, including:
No need to wear a temporary restoration
Less time you have to take off work or school
Faster overall recovery time for your smile restoration
Instantly improved comfort and stability for your restoration
Improved long-term oral and jawbone health
And more
Do You Qualify for Same-Day Implants?
The goal of same-day implants is to help you enjoy your new smile faster while still facilitating a safe and successful healing process. To ensure that you're a good candidate for the procedure, your dentist will first perform a comprehensive examination, including taking digital 3D images of your teeth and jawbone structure to plan the placement of the posts. After your procedure, your dentist will also provide you with highly specific instructions for avoiding undue pressure and ensuring the implant posts do not shift.
Preserve Your Smile with a Same-Day Implant
With same-day dental implants, we can secure your restoration to your implant posts on the same day that they're placed, allowing you to enjoy your new smile faster. To learn if you're a good candidate for a same-day implant, or to schedule an appointment, call the Sunny Smiles office nearest you in El Paso, TX, today! We have offices in East and Northeast El Paso, and happily welcome patients from all nearby communities, including Chaparral, Canutillo, Vinton, and Sunland Park, New Mexico.