Complete Dentures on Just 4 Implants in El Paso, TX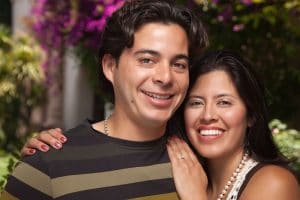 By mimicking the supportive structures of your natural teeth roots, dental implants provide several benefits that other prostheses can't. However, for patients who've lost all of their teeth on the upper or lower dental ridge, the prospect of filling that ridge with numerous implant posts can seem extensive. All-On-4® dentures are complete dentures that can be comfortably secured to just four strategically placed implant posts. By minimizing how many posts you must receive, All-On-4® dentures are often ideal for patients who may have already experienced some level of jawbone degradation due to tooth loss.
How Does All-On-4® Work?
All-On-4® implant dentures are designed to adequately withstand and spread out the pressure of your bite among only four dental implant posts. To accomplish this, we use advanced digital imaging to carefully and strategically plan the placement and angle of each individual implant post. Their position allows the posts to absorb a maximum amount of your bite pressure with lifelike stability, and all four implants can withstand more than enough pressure to support your full-arch denture.
How Would My Smile Benefit?
The ability to support a complete, full-arch denture on only four dental implants makes it possible for more patients to enjoy the important benefits of dental implants. For example, patients who've lost mass and density in their jawbone could require grafting to strengthen it before receiving enough implant posts to support a denture. However, the advanced digital design and planning process involved with All-On-4® implants allows us to fully support your denture on just four implants. This offers several different benefits, including:
Reduced or no need for jawbone grafting
Complete restoration of your smile and bite function
Reestablishing stimulation in your jawbone
Improved comfort and stability for your denture
Prevention of slipping or shifting dentures
And more
Do You Qualify for All-On-4®?
Even if you've worn a complete denture for years already, you may qualify for an upgrade with All-On-4® dental implants. The success of All-On-4® dentures depends on a number of different factors. For example, you must still retain enough healthy, strong jawbone structure to support the implant posts and restoration. Also, you must be free of periodontal disease or other chronic dental health issues that could complicate the healing process.
A New Smile on Fewer Implant Posts
All-On-4® implant dentures allow you to fully restore your smile while minimizing the number of implant posts you have to receive. To find out if All-On-4® implant dentures are right for you, or to schedule an appointment, call the Sunny Smiles office nearest you in El Paso, TX, today! We have offices in East and Northeast El Paso, and happily welcome patients from all nearby communities, including Chaparral, Canutillo, Vinton, and Sunland Park, New Mexico.