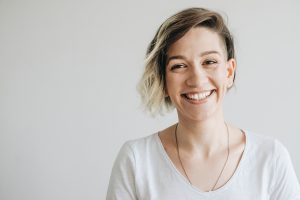 Have you ever heard of porcelain veneers? In our last blog, your El Paso, TX, dentists explained how bonding can address multiple cosmetic issues. Today, we would like to look at a more impressive cosmetic solution. Porcelain veneers can offer smile transformation in as little as two visits, addressing everything from stained and damaged teeth to the appearance of minor misalignment using lifelike and custom restorations.
How Do You Place a Veneer?
A veneer is a very thin restoration created from porcelain that fits over the front and sides of your teeth. To place them, we first need to make room for them. We remove a thin layer of outer enamel and then take detailed impressions and measurements of the prepped tooth. Using the information we've gathered, we can design and craft the restoration from porcelain. Once complete, you will return to the office for a second visit, in which we check the fit, make any necessary adjustments, and place the completed veneer with a powerful bonding agent, similar to what we keep crowns, inlays, and onlays in place with.
A Lifelike Smile Improvement
Porcelain is a very strong material, one that can absorb bite forces and serious pressure. In addition, the material contains stain-resistant properties and can be cleaned and maintained much like a natural tooth. The material can also be shaded to match the color of surrounding teeth. In fact, we sometimes offer professional teeth whitening beforehand to ensure your new restoration will match your brightest possible smile. No one will be able to tell your tooth or teeth has received cosmetic restorations.
Transforming Your Smile
Placement can help lengthen worn down teeth and repair minor cracks or chips. We've closed gaps between the teeth and reshaped malformed teeth as well. If you have permanent teeth stains, which are often resistant to teeth whitening, we can mask them instantly. Placement also helps correct the appearance of minor misalignment, providing an alternative to orthodontic treatment. With daily brushing and flossing, as well as routine six-month visits for checkups and cleanings, your new restoration could last decades and help your smile remain bright and healthy. If you have any questions about our lifelike cosmetic repairs, or any of our other cosmetic treatment options, then contact our team today to learn more!
TALK TO SUNNY SMILES IN EL PASO ABOUT COSMETIC SMILE IMPROVEMENT
At Sunny Smiles in El Paso, TX, our team would love to help you enjoy optimal oral health for many years to come, and also provide a more attractive smile. Don't let poor smile esthetics negatively impact your quality of life, talk to our team. If you have questions about our custom cosmetic treatments, then you can reach our East El Paso dental practice on 10039 Dyer St., at 915-859-7000!