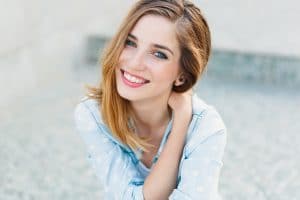 If your smile sometimes causes you to feel anxious, or embarrassed, you may be interested to know how cosmetic dental work can help. People who want to change their appearance by addressing dental flaws can be intrigued by the idea of treatment, while feeling hesitant to commit to care due to concerns about how long or involved it might be. At our El Paso, TX dental practice, we can make significant improvements to the way you look through the placement of porcelain veneers! Veneers can essentially transform your smile by hiding problems with tooth shape, dental damage, and discoloration. Because this one procedure can make several improvements at one time, you may be close to your ideal smile than you thought possible!
Using Porcelain Veneers To Address Conspicuous Flaws
Porcelain veneers are effectively capable of transforming a person's smile, as they can hide multiple flaws that might be a problem for the way you currently look. Are you concerned that your smile is affected by discoloration? Veneers can hide blemishes, and make sure your teeth are uniformly white. You can also count on veneers to cover up any minor dental damages, as well as congenital problems with the way certain teeth are shaped. As a result of their placement, veneers can effectively transform the look of a tooth by hiding all of its surface flaws.
Why Is It Important To Use Custom Veneers?
Every veneer you receive will be custom-made for the tooth being treated. Why is it so important that custom veneers be used for treatment? In order to make the most significant changes, while preserving the appearance of a natural smile, a veneer should be perfectly shaped and sized for a tooth. During an initial appointment, your dentist will take thorough measurements to ensure that your custom restorations are the exact shape and size needed. This initial visit can also involve minor work on the front of teeth, to make sure there is space for your veneers.
Look Into Other Options That Can Help You Improve Your Smile
You have multiple options to choose from if you want to undergo cosmetic dental work! If you prefer not to have restorations placed, but want to do something about the color of your smile, you can see significant improvements with a professional whitening treatment. You can also discover the benefits of a gum contouring procedure, which can make your smile look more even by correcting bulky or uneven tissues, and making short teeth appear longer.
Talk To Sunny Smiles In El Paso About Improving Your Smile With Veneers!
At Sunny Smiles in El Paso, TX, patients who want to do something about the way they look when they smile can learn that veneers are able to address all of their cosmetic concerns! If you want to learn more about this procedure, or any other that we offer at our office, you can reach our Northeast El Paso location on Dyer Street by calling 915-759-7000!