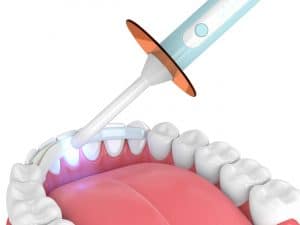 We recently talked about how teeth whitening can remove stains and help brighten smiles. But what if you have a chipped tooth, or a misshapen one? In order to address multiple issues with a smile's appearance, we may recommend a unique cosmetic treatment option. Find out how your El Paso, TX, dentists use cosmetic bonding to improve a smile's appearance.
The Esthetic Bonding Process
Dental bonding uses the same metal-free composite resin material employed in our lifelike tooth-colored fillings. A blend of glass and acrylic compounds, this material is strong, safe for people of ages and those with metal allergies, and can be shaded to match the color of your tooth. Treatment involves first removing any decay and thoroughly cleaning your tooth. We then etch the surface and apply the composite resin in several layers. The dentist then shapes and molds your tooth as we cure this material under a light. The final step is to plush the tooth, which helps ensure a more attractive appearance. The entire procedure only takes a single sitting to complete, so you can leave with a transformed smile that same day!
Transforming Your Smile
We may use the treatment to repair minor chips and cracks, as treating damage not only preserves smile beauty, but prevents the onset of decay and infection. We could also lengthen a tooth that is worn down due to teeth grinding or injury, and can reshape a malformed tooth as well. If you have permanent teeth stains, which is discoloration forming in the inner tooth structure that doesn't usually respond to teeth whitening, we can mask these stains. Bonding also helps close unsightly gaps between your teeth. For many, we can essentially offer a smile makeover with a single treatment option in just one visit!
Dental Contouring
We have another single visit option we may employ in the same sitting as dental bonding. With contouring, we don't need to add special material to the tooth or create a restoration. Instead, we correct cosmetic issues by gently buffing and sanding away certain segments of tooth structure. We can reshape chipped or misshapen teeth, address overly pointed or sharp teeth, and also remove any embarrassing pits or grooves in the tooth surface. We may combine these treatments with teeth whitening or porcelain veneers. If you have any questions about our cosmetic treatment options, then contact our team today.
SUNNY SMILES IN EL PASO PROVIDES COSMETIC DENTAL CARE
At Sunny Smiles in El Paso, TX, we're ready to help improve the beauty and shade of your teeth, often in one visit. If you have questions about our esthetic treatment options, then please call our East El Paso location on N. Zaragoza Road at 915-849-9000!