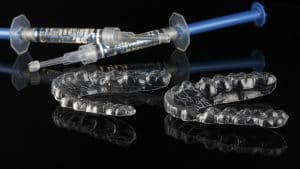 Do you have discoloration on your smile? We know that no one is ever happy with stained teeth, and people often desire a brighter smile. In today's blog, your El Paso, TX, dentists will look at our at-home teeth whitening system, which uses trays and a bleaching gel to break up and remove severe stains in as little as one to two weeks!
The Causes of Teeth Stains
How do stains form in the first place? Well, when we consume foods high in sugar and starch, this could coat the teeth in a layer of plaque that makes discoloration more visible. In addition, consuming beverages with dark pigments, such as coffee, soda, red wine, and tea, could lead to discoloration as well. Other factors include smoking and tobacco use. As part of your treatment, we will perform a detailed exam of your smile to identify the cause and extent of your discoloration. From there, we can decide if our at-home whitening system is right for you!
Custom Trays and Bleaching Gel
Treatment begins with an initial office visit. Our team will take detailed impressions of your smile and use the information to create a set of trays that fit comfortably. Next, we send you home with these trays and a powerful bleaching gel. At home, you will fill the trays with gel and wear them for about 30 to 45 minutes each day, over a period of one to two weeks. The trays help ensure an even whitening and prevent saliva from diluting the gel. For many, results could include a smile brightened by several shades. Feel free to keep your trays and any remaining bleaching gel for touch-ups down the road.
Keeping Your New Results Vibrant 
To help ensure your smile stays brighter for longer periods, be sure you take proper care of your smile. Daily care, such as brushing twice a day for two minutes and floss every night before bed, could help remove food particles and reduce the risk of stains, as well as tooth decay and gum disease. Routine checkups and cleanings also help protect the health and beauty of the smile, so you should schedule one every six months. If you have any questions about our teeth whitening system, or about any of our other cosmetic treatment options, then contact our team today.
TALK TO SUNNY SMILES IN EL PASO, TX ABOUT TEETH WHITENING
At Sunny Smiles in El Paso, TX, our team offers cosmetic dental care to help address esthetic issues with the shape and color of your teeth. For more information on cosmetic dentistry, contact your El Paso, TX, dentists at Sunny Smiles on Dyer Street by calling 915-859-7000.