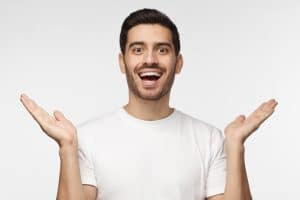 If you only attempt to improve on your smile color with store bought whitening products, or different brands of toothpaste that promise to make your teeth brighter, you can find yourself disappointed. While these products can help you if you want to remove stains on the surface of your enamel, you can find that more settled stains remain, so your results will be limited. Our El Paso, TX dental practice can send you home with a professional whitening treatment! By taking this approach to making your smile brighter, you can make your smile significantly brighter, and feel better about your efforts towards cosmetic improvement.
Trying To Whiten Your Teeth With Store Bought Products? You May Be Disappointed
Store bought whitening agents, and whitening toothpastes, may not deliver the kind of results that you really want when your goal is to show off a brighter smile. Simply put, the products available at the local pharmacy or grocery store are less potent than the prescription whitening agents available from your dentist. Without professional treatment, your improvements may be less than you hoped to see!
Taking Home A Professional Whitening Kit
When they take home a professional whitening kit from our practice, patients receive advanced whitening agents, and customized whitening trays. The trays that you are given are meant to make the application process easy, so that you enjoy a successful treatment experience. Daily treatments are needed for a brief period – often less than two weeks – to see maximum results. Because these stronger agents can bleach layers of your enamel that store bought products are not able to reach, your smile can be brighter than it has been for years!
We Can Help You Show Off Your Best Smile!
With the right cosmetic dental procedure, we can help you show off some truly amazing improvements! In some cases, a person who wants a whiter smile may need to try something other than a whitening treatment. This is because there are issues with discoloration that are related to internal tooth problems, not enamel stains. Bonding treatments can be performed to brighten the color of your smile, or to make sure one discolored tooth is made to match its neighbors. You can also address issues with discoloration when you receive porcelain veneers. In addition to helping make your smile brighter, both of these procedures can help restore the shape and condition of teeth, while also covering up some size and alignment issues.
Talk To Sunny Smiles In El Paso, TX About Brightening Your Smile
At Sunny Smiles in El Paso, TX, patients who want to start showing off whiter teeth can learn about our custom whitening kits! These kits include professional strength whitening agents that can have a terrific effect on the way you look. Are you ready to show off your best smile thanks to a teeth whitening treatment, or one of the other cosmetic services that we provide? If so, you can reach our Northeast El Paso practice on Dyer Street by calling 915-759-7000.