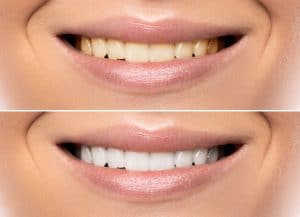 Do you want a bright smile that turns heads? If so, then you may need to see your dentist El Paso, TX, dentists about our cosmetic treatment options. With Zoom! Teeth Whitening, our team can provide a convenient take-home kit that brightens teeth by several shades, often in as little as ten days!
Why Are My Teeth Stained?
Often, what we eat and drink can impact our smile's shade. For example, if we consume drinks with dark pigments, like soda, red wine, tea, and coffee, then this could lead to stains on the surface of the teeth. If you eat foods high in sugar and starch, this could promote plaque buildup, which in turns makes stains more apparent. In addition, lack of routine dental cleanings and daily brushing and flossing could also lead to plaque and stained teeth. Smoking and tobacco use is anther major cause of discoloration! Following treatment, be sure you improve your daily oral hygiene habits and watch what you eat and drink to help your new results last as long as possible.
The Take-Home Kit
Our treatment option can help improve the beauty of your teeth from the comfort of your own home! You will stop into our office briefly so we can take detailed impressions and measurements of your smile. With this information, we can create a set of trays from an acrylic material. We then send you home with these trays, as well as a powerful bleaching gel. When you return home, you will fill the trays with the gel and wear them for usually between 30 and 45 minutes a day. The trays help ensure an even whitening throughout the process. For some, results could include teeth brightened by several shades! You then keep the trays and any remaining gel for touch-ups in the coming months, keeping your smile bright.
Should I Try Store-Bought Systems First?
Strips, toothpastes, and rinses can help brighten teeth, but the results will never be as dramatic as a professional treatment option. In addition, the results rarely last. If you misuse the strips, you could endure serious tooth sensitivity. Some whitening toothpastes have been known to contain abrasive agents, which removes teeth stains but also helps weaken outer enamel, which could lead to other oral health complications. Instead of obtaining subpar results and sensitive teeth with store bought systems, talk to our team about a professional and long-lasting results!
SUNNY SMILES IN EL PASO PROVIDES TEETH WHITENING
At Sunny Smiles in El Paso, TX, our team is ready to help you enjoy a brighter and more attractive smile with our take-home kit. If you have questions about Zoom! Teeth Whitening, then you can contact our N. Zaragoza dental practice by calling 915-849-9000.