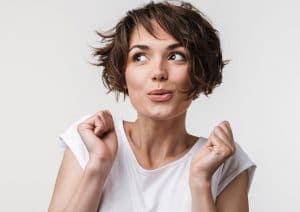 There's a type of dental treatment for every unique need. For example, if your smile is healthy and doesn't require any treatment, then a routine exam and cleaning can make sure so you can continue to enjoy your healthy smile. If you have an issue with your smile's appearance, then we can customize an appropriate cosmetic dentistry option at our El Paso, TX, dental office to help you improve it. With the right cosmetic dentistry treatment, we can help you once again smile with the optimal confidence that you deserve.
Whitening Your Teeth
Teeth stains are the most common cosmetic smile concern, and once they become obvious, they can be hard to ignore. Unfortunately, healthy teeth can stain no matter how well you take care of them, thanks to exposure to things like colorful foods and beverages. However, you can erase the stains and brighten the color and shade of your teeth with professional, custom teeth-whitening treatment. The procedure involves applying topical teeth-whitening solution to the surfaces of your teeth, which can gently break up the stains on your teeth's surface and brighten their appearance by several shades.
Bonding or Contouring Teeth
While teeth stains are often the simplest concern to address, other smile concerns can often be improved with nearly as much convenience. For example, if you have one or more teeth that are chipped, have rough or jagged edges, jut out over the edges of other teeth, or more, then tooth bonding and/or contouring may offer a minimally invasive solution to improving them. Bonding and contouring describe bonding tooth-colored resin to a blemished area of your tooth, or lightly sculpting a small area of the tooth's enamel to improve its overall size, shape, and appearance.
Completely Transforming Teeth
If you have several concerns with your smile's appearance, then correcting all of them may seem like a chore. However, we can often custom-design complete or nearly complete smile makeovers using one or more porcelain veneers. Designed to closely mimic healthy, natural tooth structure, veneers can be bonded to the front surfaces of your teeth to address multiple types of issues with highly lifelike results.
Talk to Sunny Smiles in El Paso About Cosmetic Smile Improvement
At Sunny Smiles in El Paso, TX, our team would love to help you enjoy optimal oral health for many years to come, and also provide a more attractive smile. Don't let poor smile esthetics negatively impact your quality of life, talk to our team. If you have questions about our custom cosmetic treatments, then you can reach our East El Paso dental practice on 10039 Dyer St., at 915-859-7000!