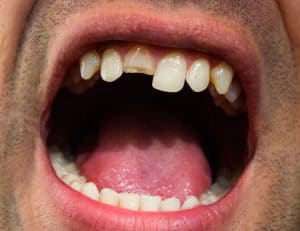 Maybe you bit down on a hard piece of food. Maybe you chipped your tooth playing football. No matter the cause, when your tooth becomes damaged, then you need to see your El Paso, TX, dentist for emergency treatment. Failing to do so could mean cavities, infection, and more! How do we provide emergency care and protect your oral health?
How Do I Contact the Dentist?
When you crack or chip a tooth, or experience severe pain or a loose tooth, then you should contact our team right away to schedule a visit. We offer 24/7 emergency care because we know that unless treated quickly, these issues could lead to severe discomfort and a greater risk of a cavity, infection, or even abscessed or lost tooth! Contact us anytime, and you can also walk in to our East-side location on 1788 North Zaragoza Road starting at 9am Monday through Saturday. You can also visit our website and click the Book Now button and choose our East or Northeast office locations. Finally, you can text or call 915-849-9000 for our East-side office, or 915-759-7000 for or Northeast office.
Addressing Your Damaged Teeth
If you experience sudden pain, bleeding, objects caught between teeth, or a chipped tooth, then rinse your mouth with warm water and take a pain reliever. A bit of cloth, cotton, or gauze could be used to stem the bleeding, and placing a cold compress against your face may reduce swelling. We can often repair minor damage in one visit with dental bonding, and for more serious issues, create and place a custom-made restoration, such as a strong and durable dental crown. Remember, seeing us quickly means lowering your risk of serious complications, and ensuring you continue to enjoy a healthy, functional, and beautiful smile!
Preventing Damage
What can you do to prevent injury? Well, first try to avoid chewing on hard objects, such as pens, pencils, or ice, as this could chip or crack a tooth. When you play sports, be sure to wear a mouthguard to protect the teeth and limit the chances of injury. Don't ignore sudden pain, bleeding, or swelling, let us now right away so the problem doesn't worsen. With the right steps, you can help protect your entire smile. But if trouble does occur, let us know. If you have any questions or concerns about our approach to emergency dental care, then contact our team today to schedule a visit.
TALK TO SUNNY SMILES IN EL PASO ABOUT EMERGENCY DENTISTRY
At Sunny Smiles in El Paso, TX, our team can address and treat broken, cracked, or missing teeth. If you have questions about emergency dentistry, you can reach our East El Paso dental practice on 10039 Dyer St., at 915-859-7000!