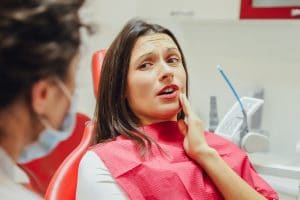 When you develop a dental emergency, which could involve any damage or discomfort to the teeth or gums, how long should you wait to see your El Paso, TX, dentists? Well, we suggest you don't wait at all! No matter what time you damage your smile, we're here to help return your smile to optimal function and health. In today's blog, let's talk more about our approach to emergency dental care.
24/7 Dental Emergency Care
The longer you wait to address a damaged tooth, the more likely the onset of a serious complication becomes. What could start as a chip or crack could eventually become cavities or infection. Which is why we want to make sure our El Paso, TX, patients have access to care 24/7 for these situations. Our East Side location on 1788 North Zaragoza Road is open six days a week, Monday through Saturday, and we accept walk-ins as early as 9am. Out Northeast location on 10039 Dyer Street accepts walk-ins as early as 9am Monday through Friday. You can also contact our office outside of normal business hours so we can arrange a visit as soon as possible. Don't ignore that pain in your smile, let is know as soon as possible!
Addressing Common Issues
If something becomes stuck between your teeth and floss can't remove it, let us know, and never use anything other than floss to dislodge something, as you could end up damaging your gums. If you chip a tooth or knock one out, rinse your mouth with warm salt water and take a pain reliever. A cold compress against the side of the face can reduce swelling and a piece of gauze or cloth can stem bleeding. Bring your tooth, or pieces of your tooth, to our office. If a restoration becomes loose or falls out, see us right away and avoid sugary foods and drinks, as this could lead to sensitivity and pain in the exposed tooth.
Possible Complications
Remember, pain in your tooth could mean advanced cavities, infection, or more. We can perform fillings or stop aches caused by decay, and repair infection with a single-visit root canal procedure. If the tooth is severely damaged or infected and needs to be removed, we can perform a safe and comfortable dental extraction and discuss replacement options. If you have a chipped or cracked tooth, we may be able to repair the issue in one visit with dental bonding, or create a custom-made dental crown to restore function, health, and beauty to your smile.
SUNNY SMILES IN EL PASO OFFERS EMERGENCY DENTAL CARE
Our Sunny Smiles team is ready to protect your smile with emergency dental care. To learn more about our comprehensive approach to dentistry, please call our East El Paso location on N. Zaragoza Road at 915-849-9000!