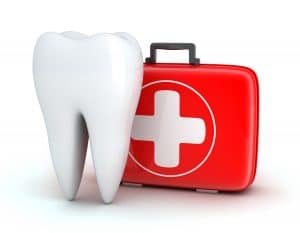 Does a toothache automatically mean you need to see the dentist? How concerned should you be if a filling falls out? When do you need to see your El Paso, TX, dentists for emergency dental care? In today's blog, we're looking at common scenarios that call for attention, and how to contact us to schedule your visit.
Aching Teeth
If you have pain in your teeth that doesn't subside after a few hours, try rinsing your mouth with warm salt water and taking a pain reliever. Then contact our team so we can schedule a checkup and identify the source of your discomfort. If have you have discomfort because an object has become lodged between your teeth and floss cannot remove it, again rinse your mouth, take a pain reliever, and contact our office. Never use anything other than floss to try and remove an object stuck in your teeth, as you could end up damaging your gum tissue!
Chips or Lost Teeth
If a tooth is chipped, you can use a cold compress to reduce any swelling and control bleeding with a piece of cloth or gauze. Rinse your mouth and then see us right away. Be sure to bring any pieces of the tooth you can recover. Often, we can treat minor damage in one visit with cosmetic options, such as dental bonding. If a tooth is knocked out, you need to bring it with you, placing it in a glass of salt water or milk. Never touch the root portion, only the crown. Again, a cold compress to the side of the face can control swelling and if needed, you can take a pain reliever.
Lost Fillings or Crowns
If a filling or crown comes loose, or falls out, then place the restoration in a small container and come see us. If you cannot recover the restoration, that's okay, we can still restore the tooth again! In the meantime, try to avoid sugary foods and drinks, or very hot or very cold foods and drinks, as the tooth will be very sensitive.
How to See Us
Our East-side office, located at 1788 North Zaragoza Road, accepts walk-ins starting at 9am every Monday through Thursday. You can also click the Book Now button and select which location you would like to schedule a visit at, and let us know a little about your problem so we can be ready for you. Finally, always feel welcome to simply call either of our locations. You can call or text 915-849-9000 for our East-side location, or 915-759-7000 for our Northeast office. Don't let your concerns become something more serious by delaying treatment, talk to our team today!
TALK TO SUNNY SMILES IN EL PASO ABOUT EMERGENCY DENTISTRY
At Sunny Smiles in El Paso, TX, we would like to offer treatment to manage your damaged or aching teeth. If you have questions about our treatment options, you can reach our East El Paso dental practice on 10039 Dyer St., at 915-859-7000!