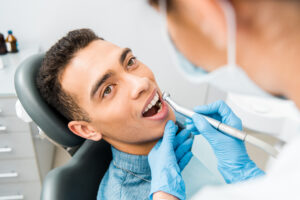 Whether you're 8 or 80, you need to have a dental exam every six months. A dental checkup is essential for protecting your oral health, allowing us to diagnose and treat problems in the early stages. In today's blog, your El Paso, TX, dentists talk about how we can protect a smile with a routine checkup every six months.
When to Schedule One
We agree with the American Dental Association that people of all ages need routine checkup and cleaning visits at least once every six months. This is because the oral health issues that threaten smile stability and your comfort take several months to form. Seeing us every six months means a greater chance of catching these early, often before you even experience painful symptoms. If you haven't had your first visit of 2023, then we would love to see you and your family soon!
The Technology We Use
We want to examine the smile and offer a diagnosis with precision and accuracy. As a result, we want to use advanced technology. To see the roots and inner tooth structure, we will employ digital x-rays, which use 90% less radiation and provide images in seconds chairside. We also use intraoral cameras to carefully examine the surfaces of the teeth and gums. We can then identify cavities, gum disease, infection, and other issues in the earliest stages, so we take action before your teeth hurt or you risk tooth loss. Our team will use the results of your checkup to create a personalized treatment plan to improve your smile and offer major improvement.
Cleanings
Our team will also clean the teeth in the same visit! With a dental cleaning, our team will thoroughly remove all plaque and tartar buildup from the surfaces of the teeth with an ultrasonic scaling device and a manual pick. Doing so helps lower the risk of cavities, infection, gingivitis, and gum disease, and also fights bad breath and teeth stains too. This also benefits smiles of all ages, and helps you enjoy brighter and healthier smiles. You can also limit the severity of plaque and tartar in between your professional cleanings with daily brushing and flossing.
If you have any questions about our preventive checkup and cleaning visits, or if you're ready to schedule one for you or a member of your family, then contact our team today to learn more. We want to help you smile with confidence for years to come!
TALK TO SUNNY SMILES IN EL PASO, TX, ABOUT SAFEGUARDING YOUR SMILE
Routine checkups and cleanings are beneficial for patients of all ages. If you're ready to schedule a visit to protect your smile, then contact our Sunny Smiles location on N Zaragoza Rd in El Paso, TX at 915-849-9000.