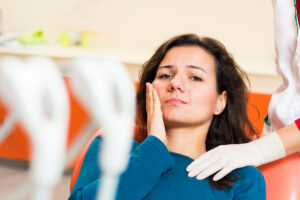 When you do not have a reason to worry about your smile or oral health, you can have no trouble waiting the usual six months between dental appointments. Unfortunately, unexpected problems can leave you in need of an appointment sooner rather than later. Sunny Smiles provides emergency services for people in the El Paso area, which means we can be here for you at a time when you urgently require treatment. At your appointment, we can evaluate an injured or infected tooth to see what kind of care is required. Our goal during any emergency dental service is to make sure a problem is fully treated while taking care to minimize changes to a patient's tooth structure and appearance.
When You Have A Potentially Serious Oral Health Issue
When physical trauma or noteworthy pain become a point of concern for you, our practice is prepared to help. Emergency dentistry offers support on short notice, which means you can have your issue evaluated and treated before there are complications to worry about. The type of care that you receive will depend on the situation that you are in. For example, you may only need cosmetic treatment to address a conspicuous chip or crack in a tooth. However, you could require more involved restorative dental treatment for an injury, as well as for problems with an infection connected to dental decay.
Emergency Care Can Restore Your Health And Appearance
Whether we need to treat a cavity or physical injury, we can see to it that your procedure does not change your smile. Our restorative services provide fillings and crowns that actually match the appearance of healthy enamel. Because of this, we can make sure a problem that affects a more visible tooth will be treated without creating trouble for your smile.
Make Sure You Keep Up With Regular Appointments, Too
Physical dental trauma can be tough to anticipate, and it can turn a once-healthy smile into one that urgently needs care. However, a cavity is something that worsens gradually; early in its formation, you may not realize that something is wrong. Thanks to your regular dental exams, you can receive early warnings about this problem, which can lead to treatment before there is a need for more involved care, and before there are issues that are uncomfortable enough to call for urgent support.
Talk To Sunny Smiles About Emergency Dentistry
Because our dental office is here to provide emergency oral health services to patients, we can act quickly when there are problems that impact your appearance and well-being. Through both cosmetic and restorative treatments, we can see to it that your needs are promptly and fully addressed when you have active concerns. If you would like to find out more, reach out to your El Paso, TX, dentists by calling our practice at 915-849-9000.