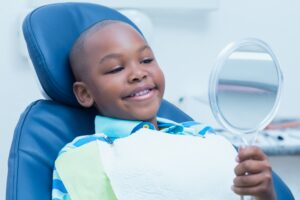 The care you put into protecting your child's smile is important. Once their teeth begin to arrive, you will need to take care of them so that they avoid problems with cavities. Doing so effectively calls for direct support as well as a healthy and low-sugar diet. To further make sure that your kids have the right support as they grow up, be sure to also bring them in for regular pediatric dental exams. Because Sunny Smiles provides dental care for kids in the El Paso area as well as support for adults, we can actually meet with everyone in your household. This makes everyone's smile care needs easier to meet, and it means you can keep bringing your kids to a trusted location as they grow up!
Do Your Children Have Oral Health Support They Can Rely On?
The right approach to protecting your child's smile will call for both daily support and regular dental exams and cleanings. If you want to consistently protect them against threats like tooth decay and gum disease, it is important that you take the time to carefully clean their teeth. When they start to approach an age where they can take care of their teeth on their own, be sure to provide guidance on how they should brush and floss for themselves. What is also important to remember is that you are not the only one who should provide this kind of support. During pediatric dental visits, your child's dentist can provide them with encouragement and guidance as well as in-office support to protect teeth and gums.
The Importance Of Scheduling Dental Appointments At An Early Age
From their earliest appointments, kids are given an opportunity to grow comfortable with their dentist and the dental office environment. An initial visit should take place around the time of their first birthday, or when their first tooth appears. At the beginning, we prioritize gentle visual examinations and care to make our youngest patients feel at ease with treatment. When they are ready, we can transition into care that provides more traditional preventive dental services while still making sure to give them guidance and support. When we need to take on a problem that forms, we can provide restorative treatment that protects teeth and preserves smiles!
We Can Help Kids And Their Parents Enjoy Reliable Smile Care
Remember that our practice is here to help kids of all ages and adults, so we can effectively meet with everyone in your household. This can make arranging visits easier, and it can help your kids feel at ease as they see that you feel comfortable with treatment.
Schedule Dental Visits For Your Kids At Sunny Smiles!
Through the scheduling of regular pediatric dental visits, you can make sure that your kids have the right support for their oral health as they grow up. To learn how we can offer this kind of support, reach out to your El Paso, TX, dentists by calling our practice at 915-849-9000.