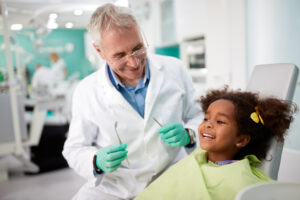 Dental health is an important part of overall health. This is true at any age, but it can be especially helpful to have the right smile support in place for kids. Children's dentistry helps by providing the kind of professional services that adults benefit from, but it also provides valuable additional support so that younger patients develop a better understanding of oral hygiene's importance. Sunny Smiles provides family dental care in the El Paso area, which means we can help you take care of your kids and also provide oral health services for you!
The Importance Of The Right Dental Care For Your Kids
Once your child's teeth start to erupt and become visible, they need protection against cavities. Without that protection, problems with the development of their smile can have effects that impact them later in life. We can help you make sure that their needs are being met. From their initial visits, when we focus on gentle evaluations and creating positive early impressions, we can make them at ease with treatment. As they age, we can provide preventive dental care that more closely resembles the services we provide our adult patients.
How Early Dental Visits Make Future Appointments Easier
A child's initial visits to their dentist can have an important impact. When they are made to feel comfortable and safe while in treatment, they can feel better about going to future appointments. These visits also give you opportunities to discuss how you can best care for their developing smile while they are still too young to brush and floss on their own. Because we offer all-ages care, we are ready to transition kids from their earliest care to more conventional preventive dentistry. We can also conservatively treat any problems with decay so that there are no complications to worry about.
We Are Here To Help Kids And Adults With Smile Care
Our practice serves patients of all ages, so you can conveniently schedule your own dental checkup when you plan to bring in your kids! Setting your own appointments can provide several benefits. One is that you can make kids feel more at ease by spending time in the dentist's chair yourself. Another is that these visits help you preserve your smile and prevent issues like tooth decay and gum disease!
Talk To Sunny Smiles About Scheduling Dental Care For Your Children
From their first appointments, the right experience at the dentist's office is important for kids. Sunny Smiles is committed to delivering consistent smile care for our youngest patients. From their initial appointment on, we can provide support and guidance to kids to help them grow up with healthy and confident smiles! If you would like to find out more, please reach out to Sunny Smiles in El Paso, TX by calling 915-859-7000.