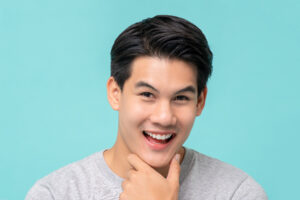 Is your smile one that you feel ready to show off, or one that you would prefer to keep hidden? Even minor issues with the way certain teeth look can cause a serious lack of confidence in a person. A smile can be a person's most prominent feature, something that can make them less than thrilled when they feel its shortcomings are being noticed too often. Fortunately, for those who are not happy with how they look, cosmetic dentistry is available. At Sunny Smiles, patients who want to do something about their embarrassing dental flaws can look at different services that are available to them, including treatment to restore teeth with durable porcelain veneers.
Are You Tired Of Trying To Hide Your Smile?
For people who are embarrassed by the way they look when they smile and speak, our practice is ready to offer real solutions in the form of cosmetic services. These treatments provide results through conservative work to change the color, shape, or alignment of your smile. You can actually take on several issues at one time when you engage with treatment, as you have the option of hiding flaws through the placement of durable, custom-made porcelain veneers.
Planning Your Treatment With Porcelain Veneers
We will plan your cosmetic treatment with veneers carefully, as the right restorations are needed to provide your ideal results. Your procedure will call for an initial appointment, which will afford us the opportunity to measure your teeth, determine what shape and size your restorations should be, and provide any necessary preparatory work. The details we capture are used to provide restorations that are just the right shape and size to hide embarrassing flaws and make the right improvements to how you look. When yours are ready, you will see us for a second appointment where your veneers will be put in place.
Discuss Your Different Options For Cosmetic Work
Because you have different options for cosmetic work, we can make sure that the way we approach treatment is truly right for you. For example, if you are happy with the shape, size, and condition of your teeth, but want to address discoloration, you can be satisfied by the results of a professional teeth whitening procedure. If you want to look at a more conservative way to make fixes to tooth shape and size, we can discuss dental bonding and contouring.
Meet With Your Dentist At Sunny Smiles To Discuss Porcelain Veneers!
Through the right cosmetic services, patients who are embarrassed by the way they look can learn about different treatment options available to them, including treatment with porcelain veneers. We are happy to make this offer for care available to those in and around El Paso who want to change how they look. If you have questions or wish to learn more, please contact our Sunny Smiles location on Dyer St in El Paso, TX by calling 915-859-7000.