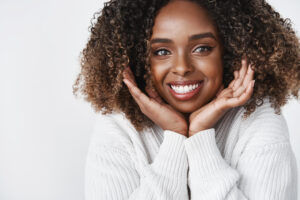 The "small" changes that affect your smile over time can become increasingly difficult to ignore. Wear and tear on your enamel, along with the accumulation of stains from different foods and drinks that you consume, can give your teeth an older, generally less attractive look that begins to make you self-conscious. Even if your teeth are in good health, these are problems that can certainly make you unhappy with your appearance. One benefit to cosmetic dentistry is that it can help you regain a smile that looks natural, but no longer has trouble with flaws that have worsened over time. Sunny Smiles can help you make meaningful changes to the way you look through the use of custom-made porcelain veneers, which can offer many benefits in just two appointments!
Stains, Wear And Tear, And Other Smile Concerns
While some problems with a person's smile are naturally occurring flaws, others can develop and worsen over time. Friction from biting and chewing can wear down enamel through the years. While proper oral hygiene helps your smile maintain its appearance, those who have naturally weaker enamel can experience this issue sooner. It can also be a problem for those who have a tendency to grind and clench their teeth. Another concern is that your smile will become less bright over time, either because of stains you have picked up, enamel erosion, or problems within your tooth structure.
Using Veneers To Make Your Smile Brighter And More Attractive
With porcelain veneers, we can take on many problems with the way your smile looks after just a single procedure. These restorations are carefully made so that they fit securely and provide a natural look. To ensure that they are the right shape and size, we will take care to measure your teeth closely and perform conservative preparatory work to make space for them. At a follow-up visit, we will bond your restorations to the front surfaces of your teeth to make the changes that you want to see.
Choosing The Right Cosmetic Procedure
There are different procedures that we can offer to our patients based on what their goals for treatment are, and what their concerns are regarding the treatment process. By recommending that you undergo tooth bonding and contouring work, we can provide a cosmetic service that takes on discoloration, dental wear and tear, and other problems in as little as one appointment. If your primary concern is with the impact of enamel stains, we can proceed with a professional teeth whitening treatment.
Talk To Sunny Smiles About Using Veneers To Improve How You Look When You Smile
While some changes to your smile can be hard to prevent, noticeable flaws can be resolved when you look into your options for cosmetic treatment! To learn about veneers and other options available to you, contact our Sunny Smiles location on Dyer St in El Paso, TX by calling 915-859-7000.