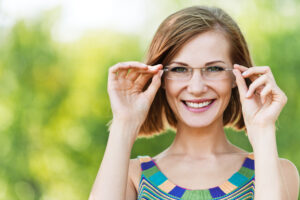 There are different problems concerning your smile that Sunny Smiles is prepared to help you address. Sometimes, we can actually identify trouble before you are aware something is wrong. At a routine dental exam, you can learn that you need restorative treatment for dental decay before you have issues with discomfort or changes to your appearance. However, there are times when patients set appointments because they have concerns to bring to our attention. Based on the condition of teeth that concern you, we can discuss treatment with porcelain veneers to change the shapes and sizes of teeth that are worn or misshapen, or we can plan restorative work with crowns to address more serious problems.
Different Issues Can Call For The Placement Of Restorations
There are different reasons why we might provide permanent restorations for teeth that are in poor shape. We will perform a close review to see just how serious the trouble with your enamel might be. By doing this, we can determine if you require restorative dental work, or if you can see results with a more conservative cosmetic procedure. By taking the time to review your needs and provide the right solution to your trouble, we can ensure that you see lasting results from your appointment and continue to enjoy the changes that a restoration provides for your appearance and dental function.
Using Veneers To Make Welcome Cosmetic Changes
Through the use of custom porcelain veneers, we can make exciting cosmetic changes to teeth that are misshapen, damaged, discolored, or poorly spaced. They only require conservative changes to your enamel, as their area of coverage only affects the front surfaces of your teeth. The process of placing them calls for two visits to our office. Your first appointment is where preparatory work is done: We can measure any teeth that are being treated to determine what shape and size your veneers should be, and we can make minor modifications to ensure that they fit properly. When you return for your second appointment, these restorations will be permanently bonded so that they can offer lasting value for your smile!
Planning Smile Care With Dental Crowns
Dental crowns take care of teeth affected by advanced decay, and they also help us resolve problems with physical damage to your tooth structure. Because they completely surround a tooth, care is taken to make sure they fit securely but do not affect neighboring teeth. They can match the color and texture of your enamel in order to prevent cosmetic issues after treatment.
Talk To Sunny Smiles About Making Positive Changes To Your Smile!
Through the use of the right restorations, we can help you enjoy lasting improvements to your smile! If you would like to find out more about how we can help you, reach out to our Sunny Smiles location on Dyer St in El Paso, TX by calling 915-859-7000.