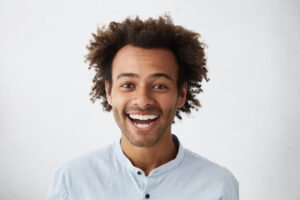 Are you embarrassed by recent problems with your smile, or tired of feeling self-conscious about issues that have long made you unhappy with your appearance? Whether you want to address naturally occurring flaws or issues with dental damage or wear and tear, porcelain veneers can help. With these durable restorations, Sunny Smiles can make significant changes to the way you look. Their placement helps by improving the shape, size, and color of teeth that are less than attractive. The porcelain material used to construct them is durable enough to help you preserve those changes for many years! This is one of several cosmetic services we are ready to offer to patients who want to make meaningful changes to the way they look.
What Can You Gain From Cosmetic Dental Work?
There are different concerns that motivate people to tell their dentist that they want cosmetic dental work. A procedure can address problems that stem from dental damage, gradual discoloration, and other issues that can form and worsen in time. It can also take on naturally occurring issues with tooth shape and size, and even with your smile alignment. What can surprise you is how a single procedure can take on these different issues, and can do so in less time—and with fewer overall changes to your enamel—than you expect!
Using Veneers To Take On Smile Flaws
With porcelain veneers, we can make many welcome changes to the way you look whenever you show off your smile. These thin restorations are placed on the fronts of teeth that are being restored. They only cover this limited area, which means your surrounding tooth structure goes unchanged. They are designed after we take detailed measurements to make sure that the veneers you receive are just the right shape and size to make your desired improvements. Once they are placed, their durable design helps to ensure that you enjoy your results for many years!
Restoring Teeth With Crowns Instead Of Veneers
There are times when dental work with crowns is recommended instead of veneers. If you are looking for an answer to dental damage, or if you need to take care of an undersized tooth that is not contributing to your bite, we can use a dental crown to make needed oral health improvements.
Talk To Sunny Smiles About Treatment With Porcelain Veneers!
Through treatment with porcelain veneers, we can help you take on issues that you have with your appearance. These durable restorations only require minimal changes to your appearance, but they are able to make lasting improvements that hide many different flaws. If you would like to find out more about how we can help you with this or another procedure, please reach out to Sunny Smiles in El Paso, TX by calling 915-859-7000.