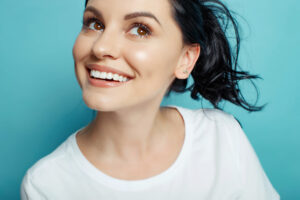 There are exciting treatment options available to you if you want to make changes to your smile. Sunny Smiles provides multiple treatment options, and can work with you to correct all of the flaws that you currently believe hurt your overall appearance. What may surprise you is that one treatment can be enough to address all of your present worries. With custom porcelain veneers, we can hide discoloration, correct problems with tooth shape and size, cover damages, and even hide some alignment flaws. The process of placing these restorations can be completed in as little as two appointments, which means you only have to wait a short time to see the changes that you want!
Are You Ready To Improve Your Smile?
Through the right cosmetic dental procedure, you can see welcome changes to your appearance. We can take on concerns that you have about teeth that look worn, misshapen, or damaged. We can also take on discoloration from enamel stains as well as internal problems. For some patients, cosmetic treatment can even provide an effective answer for problems with teeth spacing. With porcelain veneers, we can actually take on many problems at one time, leading to lasting improvements that give you an exciting change in your smile to show off!
Planning Your Personalized Treatment With Veneers
Porcelain veneers are carefully designed for individual teeth. This care ensures that they both provide your desired improvements and appear natural when they are put in position. The treatment process can take place in as little as two visits. The first appointment lets us take the measurements we need, and it also includes preparatory work to make sure that your restorations stay secure and look natural. At your follow-up visit, we will confirm that your veneers are right for you, and from there we will put them in place. The bonding process is permanent, and can give you exciting results that you can show off for many years.
Discussing Your Other Cosmetic Treatment Options
Because patients can bring different concerns to a conversation about cosmetic work, we are happy to discuss different treatment options. For someone who is focused on making their teeth whiter, we can provide a take-home treatment that effectively fights enamel stains. For someone interested in a more conservative means of changing tooth shape, size, and color, we can discuss the advantages of tooth bonding and contouring work.
Talk To Sunny Smiles About The Impact Veneers Can Have On Your Appearance
When you plan a treatment with porcelain veneers, you can see remarkable changes to your smile! Our practice is happy to discuss this or other cosmetic services with you if you want to make a change to your appearance. To find out more, contact your El Paso, TX, dentists by calling our practice at 915-849-9000.