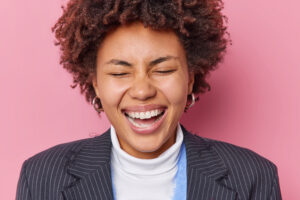 As someone who is interested in cosmetic dental work, you can have a clear idea of how you want to look when you are finished with treatment. However, you can be less certain about what it might take for you to see the results you want. Sunny Smiles provides several treatment options for those who want to improve their appearance. Patients who want to take on problems like discoloration, problems with misshapen teeth, and even alignment issues can find that porcelain veneers can help. In fact, with this one treatment, we can help you take on many different concerns! This is because the restorations that we place on the front surfaces of teeth can cover up many different flaws while only modifying a conservative portion of tooth structure.
We Can Help You Show Off A More Attractive Smile
With our different cosmetic dental services, we can help you take on problems that have left you feeling self-conscious about how you look when you smile and speak. Because there is more than one approach we can take to your treatment, we can provide options that address your goals for improvement as well as your concerns about what care might involve. With porcelain veneers, we can use custom-made restorations to cover up problems with teeth that look discolored or damaged, and we can correct issues with their shape and size that make them look less attractive. With the right approach, we can provide exciting results with a conservative treatment approach.
Why Veneers Are Custom-Made For Patients
By providing custom-made restorations during treatment with porcelain veneers, we can make sure that your care leads to the proper restoration of your smile. The shape and size of veneers will be important for both providing desirable changes and preserving your natural appearance. Careful preparatory work on your tooth structure can also be beneficial, as it helps to ensure that your restorations will have the needed space to stay secure and still look natural.
Learning About All Of Your Options For Cosmetic Dental Work
Our practice is happy to help you explore your different options for cosmetic dental work. Beyond treatments with veneers, we can recommend services like tooth bonding and contouring, a more conservative procedure that can make many changes to your smile. We also offer teeth whitening treatments to patients whose goals are primarily concerned with discoloration.
Talk To Sunny Smiles About Smile Changes Made Possible With Veneers
Through the placement of custom dental veneers, we can make your smile look whiter, more symmetrical, and generally more attractive. If you would like to find out more about how this procedure can help you, or if you would like to discuss another treatment option, we are happy to help! To find out more, contact your El Paso, TX, dentists by calling our practice at 915-849-9000.