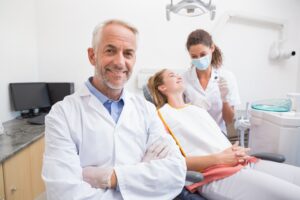 Your routine dental appointments provide care in the form of reviews and cleanings. During a typical visit, you will undergo this care, which can lead to helpful feedback about your oral health, but at an appointment where a problem like tooth decay is identified, it can prove necessary to arrange restorative dental work. Patients at Sunny Smiles can count on care that fully addresses problems with their oral health without making unwanted changes to their appearance. We can even provide the appropriate care when you have problems with decay that have led to a painful and alarming tooth infection!
Problems That Call For Restorative Treatment Should Be Taken Seriously
If a problem with your oral health makes restorative dental work necessary, you should take the matter seriously. However, you do not have to feel alarmed, as your dentist can take care of the problem while providing a filling or dental crown that preserves your tooth and smile. Restorative care is needed when a cavity forms, or whenever a physical injury occurs that calls for more than just cosmetic treatment. An evaluation will tell us what kind of care you require. Staying consistent with regular dental exams will lower your risk for complications that make more involved services necessary.
The Importance Of Promptly Treating A Cavity
Promptly treating a cavity preserves more of your tooth structure, and it makes a more conservative treatment possible. When decay is spotted and addressed in time, you can rely on protection from a dental filling, a conservative treatment option that preserves your surrounding enamel. The filling is placed directly at the site where your cavity formed; in addition to matching the appearance of your enamel, the material we use can bond to it to provide long-term stability. Typically, this is a procedure that we can complete in just one appointment!
Restoring An Injured Or Infected Tooth
If your tooth is badly injured, or if you have an advanced cavity, it may be necessary for us to address the matter by performing root canal treatment. This procedure addresses problems within your pulp, the tooth's central chamber. After tending to the matter, we can provide a custom dental crown to keep your tooth safe and secure. We provide crowns made from different materials, including substances that can match the color and texture of healthy enamel.
Talk To Sunny Smiles About Your Need For Restorative Dentistry
Through the appropriate restorative dental work, our practice can make sure that your tooth is fully taken care of when you experience a cavity or injury. If you have questions about our services, or if you have any concerns about your oral health, please reach out to Sunny Smiles in El Paso, TX by calling 915-859-7000.