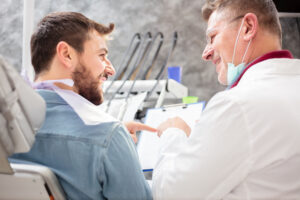 You should see your dentist on a regular basis to receive preventive care, but you should also be ready to set an appointment if you feel that something is wrong with your oral health. When you visit Sunny Smiles to discuss restorative dentistry, you can learn that our practice provides treatments that protect vulnerable teeth without altering your appearance. We can do this because we offer both dental fillings and dental crowns that closely imitate healthy enamel. If necessary, we can provide endodontic services to address problems with a tooth infection, something that can affect you if you have a severe cavity or physical injury.
When Is It Necessary To Schedule Restorative Dental Work?
Restorative treatments take care of cavities that form. Timely support will limit the overall harm to a tooth that decay can cause, but even a small cavity will need to be addressed by your dentist. While this is often why people need treatment, it is not the only reason. You can also find it necessary to schedule treatment because of a physical injury that affects your tooth structure and/or causes lingering pain. The good news is that our practice is available to help in this situation, even if your injury is serious enough to require emergency oral health care.
Arranging Treatment To Address A Cavity Or Tooth Injury
If you have to do something about an injured tooth, or one affected by decay, let our practice know as soon as you can. When you come in for your restorative dental work, we can evaluate you to determine what kind of support you need. We are able to treat many cavities by treating the unhealthy area and placing a custom dental filling. In a situation where the damage to your tooth is more serious, we can cover it with a custom dental crown. These restorations surround the tooth above your gum line, creating a degree of protection that will help you maintain a healthy, natural bite function and avoid problems with the health of your tooth structure.
Regular Checkups Lead To Warnings And Early Treatments For Oral Health Problems
If you want to lower your risk for problems with your oral health over time, keep visiting your dentist for regular checkups and cleanings. At these appointments, we can look out for the early warning signs of decay so that we can intervene and provide the appropriate care. We also provide services that make problems less likely to occur, so your likelihood of needing care is reduced.
Talk To Sunny Smiles About Your Need For Restorative Dental Work
Through the appropriate restorative treatment, we can put a stop to a problem with your tooth. Whether you need care for an injury or cavity, timely treatment can protect you against further problems, restore your bite function, and preserve your smile! If you would like to learn more about how we can help you with an active dental problem, contact your El Paso, TX, dentists by calling our practice at 915-849-9000.