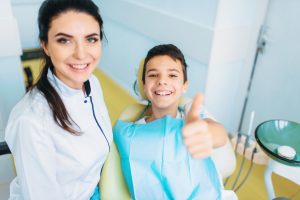 What does regular dental care really look like? Unless you are told otherwise, you should see your dentist on a semiannual basis to enjoy preventive services. Of course, if you have children, you need to think about more than just your own oral health needs, as you will need to make pediatric dental care a priority as well. At Sunny Smiles, we can make it easier for you to oversee the smile care needs for your family by offering dental services for patients of all ages. In addition to helping you stay informed about your oral health, we offer different restorative services for patients of all ages so that active problems can be resolved.
We Can Offer Dental Services For Everyone In Your Household
Our dental practice offers family dental services to the El Paso community. What that means is that you can bring everyone in your household to one location, which makes these visits easier to arrange. It also means younger patients can turn to the same office for support through the years, which means you will not have to look for a different office as your kids age. We provide important ongoing services, both for children whose oral structures are still developing and for adults who want to make sure their teeth stay in good condition through the years!
Finding A Reliable Dentist For Your Children
A family dentist is able to help you give your kids valuable support to keep them safe against potential difficulties with their dental health. These early visits help younger patients feel comfortable in the dentist's chair, something that makes visits in the future easier to arrange. In addition, we can keep parents updated about their children's development, which can mean you receive timely warnings about any issues that will require treatment. Through the years, the support provided during these exams help kids both learn to practice smart oral hygiene habits and take the health of their teeth and gums seriously.
Are Your Oral Health Care Needs Being Met?
As good as it can feel to know that your children have the right access to oral health care, you should make sure that your smile needs are being met. If you are not scheduling your own exams, you can miss out on the benefits of preventive care, something that leaves you more vulnerable to cavities and gum disease. Fortunately, you can come in to see us for a dental exam and cleaning to keep your smile safe from harm!
Sunny Smiles Can Provide Reliable Dental Care For Your Family
When you find a family dentist's office that is prepared to help everyone in your household, you can enjoy a more convenient and reliable experience with oral care. Our practice has experience serving families in and around the El Paso, TX area. If you wish to learn more, or if you are ready to set up an appointment, please contact your El Paso, TX, dentists by calling our practice at 915-849-9000.