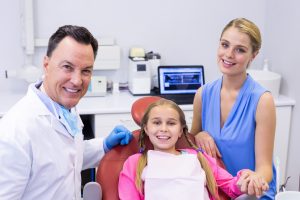 How important are dental cleanings when you already take care of your smile each day by brushing and flossing? While daily oral hygiene efforts are valuable, you should not regard them as a replacement for the kind of preventive services you receive during routine dental visits. At Sunny Smiles, we can make sure patients of all ages have their teeth thoroughly cleaned to rid them of both plaque and tartar buildup. You can have your own needs addressed at our office, and you can also rely on our services when it comes to keeping your kids in good dental health!
The Impact That Dental Cleanings Have On Your Overall Oral Health
Dental cleanings remove tartar as well as plaque buildup, which makes them a valuable form of protection against threats like tooth decay and gum disease. As beneficial as it is to have an effective brushing and flossing routine, you will not be able to remove tartar deposits once they form. You can prevent the formation of this material, but the removal comes from care provided by your hygienist. Without that support, any buildup of this material you have on your smile can hurt the way you look, and it can raise your risk for the start of problems that will require restorative dental work.
Scheduling Preventive Care For Your Kids
Kids can benefit from the support of their parents as well as dental professionals when it comes to learning good oral hygiene habits. At their earliest pediatric dental appointments, we can provide direct care and help introduce them to topics concerning home smile care. As they age, we can keep up with their oral health needs and verify that their work to brush and floss is effective. We can also intervene and provide assistance to make them less likely to experience problems with their teeth and gums.
Ignoring Your Own Oral Health Needs Can Have Real Consequences
It is important to prioritize the health and well-being of your kids, but you should make sure your own needs are being attended to as well. By scheduling your own routine dental exams, you remain protected against the problems that occur when cavities and gum disease are not properly prevented and managed.
Talk To Sunny Smiles To Arrange Dental Cleanings For Your Family!
Dental cleanings take care of plaque accumulations, and they also address tartar buildup that can resist your efforts at removal by brushing and flossing. These services provide important ongoing protection so that you can keep your family safe from problems like dental decay and gum disease. If you would like to find out more, or if you are ready to book your next appointments, please contact your El Paso, TX, dentists by calling our practice at 915-849-9000.