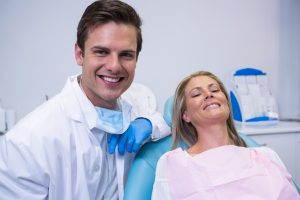 While you can effectively protect your smile by brushing and flossing thoroughly, there is one thing you cannot do—while cleaning your smile at home, you will not be able to remove tartar buildup. Preventing tartar is certainly possible, but any deposits that form between your regular dental checkups will remain despite your efforts to remove them. Fortunately, your regular appointments at Sunny Smiles keep the accumulation of this substance under control. As your teeth are cleaned, we will look for tartar accumulation and take care of it. We can also provide helpful feedback about the effectiveness of your daily care, and when appropriate can provide deep cleanings to fight gum disease.
When Was Your Last Scheduled Teeth Cleaning?
A typical patient should stick to a schedule of preventive dental appointments every six months. When you have your teeth cleanings and evaluations at this rate, you can control your risk for problems that can hurt your smile and well-being. Delaying these visits leaves you more vulnerable to tartar buildup, which can lead to dental decay and gingivitis. Putting off visits will also create a risk that problems will form, worsen, and require more advanced care when you do see your dentist again.
Seeing Your Dentist For Preventive Care
Preventive services provide thorough professional teeth cleanings and evaluations that update you about the condition of your smile. Carefully removing plaque, tartar, and food debris from teeth will make you less likely to experience difficulties that require restorative dental work. These appointments also help you maintain good periodontal health. For patients affected by gingivitis, we can provide a deep cleaning that removes bacteria from the roots of teeth to stop an infection from growing worse. Your review will tell us if you need work done because of cavities, periodontal problems, or other issues, such as TMJ disorder, that can negatively affect your quality of life.
We Provide Preventive Care For Adults And Children
Consistent reviews are important for both adults and kids. Our commitment to family dentistry helps us take on the needs of entire households, so we can make it easier for you to ensure everyone in your household has support! During pediatric dental exams, we take care to provide our youngest patients with support and encouragement, and we combine in-office support with guidance to help them protect their teeth and gums at home.
Schedule Your Next Teeth Cleaning At Sunny Smiles
Are you due for your next teeth cleaning? Scheduling these appointments consistently will help you preserve your smile and avoid complications from problems that can negatively impact your oral and general health. If you wish to schedule an appointment, or if you have any questions about our services, please contact Sunny Smiles in El Paso, TX by calling 915-859-7000.