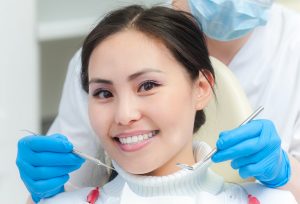 How do you deal with tartar buildup? At home, you can prevent the formation of this material by consistently brushing and flossing, which removes plaque buildup before tartar can form. Unfortunately, once a deposit has formed, it will remain in place in spite of your oral hygiene routine. However, you can still protect your smile against this accumulation, as your hygienist can take care of it during your next scheduled teeth cleaning and examination. Patients at Sunny Smiles can look forward to consistent preventive dental care, which controls their risks for problems that can lead to the need for restorative dental work. When necessary, we can also identify problems that already call for restorative work, then provide the appropriate care to put a stop the the trouble you face.
When Did Your Last Teeth Cleaning Take Place?
To stay consistent with preventive dental care, your teeth cleanings and exams should happen on a semiannual basis. For a typical patient, this provides a degree of protection that can keep issues with dental decay and gum disease at bay. If problems do form between your appointments, we can arrange the appropriate care at your subsequent visit.
A break from preventive care can have consequences. Tartar buildup can worsen in time, which can lead to more issues that will require restorative treatment. When gum disease or tooth decay affect you, the time you spend out of the dentist's chair can lead to those issues forming and worsening, which means you face risks for complications.
How Routine Visits Protect You Against Dental And Periodontal Problems
At every routine appointment, you receive a thorough evaluation as well as a cleaning that will remove plaque and tartar. The cleanings we provide take care of accumulated bacteria that can cause cavities to form. This care also fights the formation of harmful agents that can cause gingivitis. Your daily routine is important, but you should balance these scheduled cleanings and exams against your brushing and flossing efforts to enjoy better support.
Protecting Your Smile At Home With Good Daily Habits
Good daily behaviors between visits make you less likely to have tartar deposits, and they make you less likely to need help with gingivitis or tooth decay. Do you brush and floss each day, or just brush? Many people overlook how important flossing can be. This practice ensures that you have no issues with bacteria gathering between your teeth. When you brush, spend at least two minutes on the task to make sure you reach even those harder-to-clean spaces.
Schedule Your Next Teeth Cleaning At Sunny Smiles!
Our practices are here to help families in and around the El Paso area keep their teeth and gums in great health! For more information, or to set your next appointment, please contact Sunny Smiles in El Paso, TX by calling 915-859-7000.