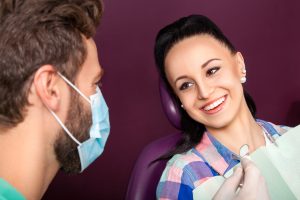 Are you brushing often enough? Do you do a good job of making flossing part of your daily routine? If so, you are maintaining an important line of defense for your smile. Throughout each day, our teeth are vulnerable to the buildup of harmful oral bacteria as well as food debris from our meals and snacks. Good daily habits help you fight their accumulation, which lowers your risk for problems with tartar buildup, dental decay, and gingivitis. With that being said, your preventive care should not come from you alone, as the services that your dentist provides are also important. Sunny Smiles provides beneficial teeth cleanings and exams for patients of all ages, which help control the buildup of tartar that can cause more risks for dental trouble over time.
Tartar Buildup Can Be Difficult To Avoid
It is important that you take time and put real effort into keeping your teeth clean. Every day, you should protect your smile directly by brushing twice and flossing before bed. These tasks fight the buildup of food particles on your teeth, and they also help you control the accumulation of oral bacteria. Concentrations of bacteria and other debris can gather in places to form plaque buildup, a sticky material that can hurt your oral health. The good news is that when you deal with this in time, you can keep the material from accumulating. Unfortunately, when plaque deposits are not removed in time, harmful tartar buildup will occur.
How Regular Preventive Care Protects You
Regular dental checkups help you avoid problems that call for restorative dental work, and they highlight problems that can form between appointments. In addition to worrying about dental decay, you also need to concern yourself with gum disease, which can interfere with your oral health as well as your general well-being. Visits protect you against these problems by providing early warnings, and by providing scheduled teeth cleanings. Cleanings can actually remove the tartar buildup you will not be able to remove on your own, which is part of why consistency is so valuable.
Practicing Better Smile Care At Home
With improved habits, you can lower your risk for problems with tartar buildup, which makes you less likely to have other dental problems. Every time you brush, spend at least two minutes on the task so that you can reach every part of your smile. The right tools are important for the job, which is why you should replace a toothbrush after three or four months of use (or as soon as the bristles look worn down) and use an ADA-approved toothpaste.
Schedule Your Next Teeth Cleaning At Sunny Smiles!
Regular preventive care will provide an important line of defense between your smile and tartar deposits. If you want to learn more about how you can protect yourself against the buildup of this harmful material, please contact Sunny Smiles in El Paso, TX by calling 915-859-7000.