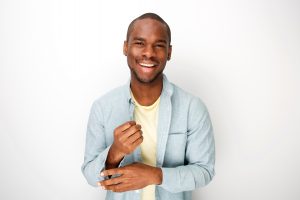 Many people will try to make their smile brighter in the comfort of their own home, as they prefer the convenience to making an appointment to see their dentist. However, this can lead to less than stellar results, ultimately ending in disappointment. What can you do to see real results from a take-home teeth whitening kit? Sunny Smiles provides customized whitening kits that offer more significant improvements. Your personalized kit can remove stains that have settled and deepened over time. We can also discuss alternative solutions, which can help you deal with intrinsic discoloration.
Frustrated By A Lack Of Results From Over The Counter Whitening Agents?
Over the counter whitening agents are capable of removing stains that are on the surface of your enamel, but they can leave deeper and tougher stains. What can you do to show off a significantly brighter smile? Rather than turn to another product from your grocery store or pharmacy, you can talk with your dentist about a professional whitening treatment. Our practice provides personalized kits that are capable of removing deeper stains, which can produce stunning results!
Take Home A Custom Whitening Kit From Your Dentist
Your customized whitening kit is capable of removing tough stains that have gathered over time. The kits we provide include trays that make the application of your bleaching gels easier. Through a recommended number of daily applications, you can see gradual improvements that make your teeth look healthier, more youthful, and more attractive. Typically, treatments will be completed in less than two weeks.
Teeth Stains Are Not The Only Cause Of Dental Discoloration
Intrinsic discoloration can be a frustrating problem, one that can leave many individuals frustrated. When changes to your tooth structure affect your smile color, something other than whitening agents can be needed. Our practice can discuss other options for cosmetic dental work to help resolve this issue. One option is to improve your smile with porcelain veneers. With veneers, we can address dental discoloration as well as flaws with the shape and size of teeth, problems with enamel damage, and even issues with poor smile alignment. We also have the option of providing tooth bonding treatment. For more significant problems with tooth color, we may recommend capping certain teeth with dental crowns.
Talk To Sunny Smiles About Making Your Smile Whiter
By providing the right approach to treatment, we can help you make your smile notably whiter! We offer several solutions for patients bothered by their appearance, including the use of take-home teeth whitening treatments that can make cosmetic changes more accessible. If you have questions about our cosmetic services, or if you want to discuss any other services available to you, please contact Sunny Smiles in El Paso, TX by calling 915-859-7000.