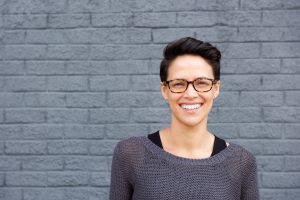 You can find it hard to ignore the way dental discoloration has changed your smile. There are products available at grocery stores and pharmacies that can help you deal with enamel stains, but they can lead to fewer changes than you hoped to see. Does this mean that you are stuck with a less attractive appearance? Discuss your concerns about dental discoloration at Sunny Smiles. At our practice, we can provide you with a customized whitening kit that you can use to more effectively fight discoloration at home. You can also review your options for other cosmetic services, something that is particularly helpful for those who are affected by intrinsic discoloration.
Are You Tired Of Feeling Bothered By Your Dental Discoloration?
If you no longer feel attractive when you smile because of discoloration, it can be difficult to project confidence, something that can have social and professional consequences. Even if your smile is healthy, it can give people the impression that your oral health is not being managed effectively, and its dull appearance can make you look older. Someone who has already tried to use a whitening toothpaste or store-bought whitening kit can feel stuck with their dull, discolored enamel. Before simply giving up, you should talk to your dentist about your options. The right cosmetic dental procedure can make your smile appear brighter, more youthful, and more attractive!
Take Home A Professional Teeth Whitening Treatment
The teeth whitening kits that our practice sends patients home with can deal with discoloration that is difficult to remove with products purchased over the counter. These kits contain potent bleaching agents as well as personalized trays that make applying them easier. Over the course of your daily treatments, you will break apart the stains that have made your enamel appear dull and unhealthy. These applications can lead to exciting results in under two weeks. At that point, you can marvel at how much your improved appearance can do for your confidence and smile!
You Might Need A Different Approach To Deal With Dental Discoloration
Discoloration can occur when changes affect your tooth structure, not just when enamel stains accumulate. For intrinsic discoloration, we can discuss different cosmetic dental procedures that can help you. Treatment with porcelain veneers can lead to improvements, and so can a dental bonding procedure.
Talk To Sunny Smiles About Making Your Teeth Whiter
If your goal is to show off a brighter, more attractive smile, know that Sunny Smiles is here to help! With the right treatment, we can help you show off stunning improvements that give you more confidence in your appearance. To find out more, or to make an appointment, please contact Sunny Smiles in El Paso, TX by calling 915-859-7000.