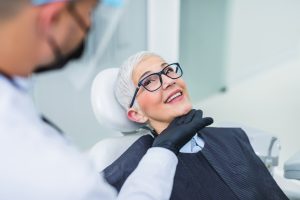 How much worse can your cavity really become if you put off treatment? As time passes, decay will cause more and more harm to your tooth structure. Unfortunately, we do not have a way to stop this on our own, which is why you should make care a priority when you think something might be wrong. Eventually, you can develop an infection, which occurs when bacteria make their way into your tooth structure and cause issues with the living tissues within. Through smart preventive care and regular dental exams, you can avoid these issues. Sunny Smiles can provide early warnings about tooth decay, and that can lead to timely restorative services that help you regain your oral health before there are complications that have to be treated.
A Tooth's Condition Will Worsen In Time When You Have A Cavity
Once a cavity forms, oral bacteria will keep damaging your enamel. As time passes, the erosion that takes place will start to damage the layers of your tooth beneath your enamel. When oral bacteria gain access to your pulp, the tooth's central chamber, you can experience pain and sensitivity from an infection. This is a serious concern, one that can lead to the tooth loss as well as the spread of harmful microbes. Dealing with the problem will call for root canal therapy. Fortunately, these are issues you can avoid when you make cavity treatment a priority.
Treatment Can Restore Your Oral Health Without Hurting Your Smile
Cavity treatments call for permanent restorations. Depending on how much damage there is at the time of your procedure, we will use either a dental filling or a dental crown for support. The good news is that either option can provide both functional protection and cosmetic benefits. We provide dental crowns made from many different substances, including materials that can imitate healthy enamel. We use composite resin fillings to protect teeth discreetly when we place dental fillings.
Regular Dental Exams Can Ensure Timely Cavity Treatment
Even with access to treatment for an advanced cavity that preserves your smile, your goal should be to avoid complications from dental decay. At every regular dental exam, you can undergo an evaluation that can lead to early cavity detection and treatment. Because of this, you are more likely to have work before there are issues with an infection or advanced structural damage that need to be addressed.
Talk To Sunny Smiles To Schedule Your Cavity Treatment
A cavity treatment can provide important support for your tooth without changing the way you look. At our practice, we provide early warnings about dental decay to both kids and adults, leading to timely treatments that prevent oral health complications. If you would like to find out more, contact your El Paso, TX, dentists by calling us at 915-849-9000.