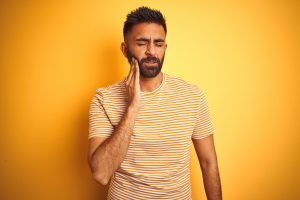 Restorative dental work is something that your dentist helps you avoid. By offering guidance on at-home care and providing preventive services during a visit, we can help you stay free of cavities and gum disease. If you do find yourself in need of treatment because of a problem, you can bring your concerns to Sunny Smiles. Through the appropriate restorative dental procedure, we can address decay or damage, and we can also take care to keep your tooth safe against future issues. Because we provide dental fillings and dental crowns that imitate healthy teeth, we can make sure your smile is in good condition without changing your appearance.
Restorative Dentistry Addresses Problems That Worsen Over Time
One important thing to remember about restorative dental work is that without the right treatment, a tooth's health will continue to deteriorate. A cavity or physical injury can lead to a situation where a tooth becomes infected. At this point, you can experience pain and sensitivity, and you run the risk of losing your tooth. The sooner you can arrange treatment, the better protected you are against complications.
Treating Cavities And Physical Injuries
To address a problem with your smile, we will first evaluate your tooth to determine its condition and see how we can take care of you. If possible, we will approach your procedure with a more conservative dental filling. Fillings only cover the space where decay has formed, which preserves surrounding enamel. A dental crown will be used when a cavity or injury causes more harm. When in place, the restoration will surround your tooth above the gum line to provide long-term support. Both of these restorations can imitate your appearance. Crowns can be made from several different material types, which helps us ensure that your tooth has the right support.
We Can Provide Restorative Work For A Dental Emergency
Restorative work can be arranged on short notice. Hopefully, you will not have to seek treatment for an injury or severe discomfort. If you do, remember that our practice can meet with you to provide support. Emergency dental services shorten the time that you have to spend in pain because of a dental problem. They also lower your risk of experiencing tooth loss due to an infection or injury.
Count On Restorative Dental Work At Sunny Smiles!
Restorative dental services provide important protection against problems with decay or physical damage to your enamel. Through the right procedure, we can both restore your appearance and provide long-term protection for your well-being. Remember that in addition to taking on problems that have already occurred, we can help you avoid future problems through timely preventive care. To find out more, contact your El Paso, TX, dentists by calling us at 915-849-9000.