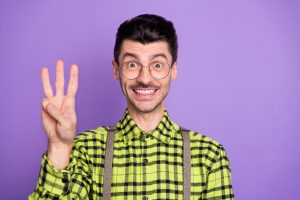 It is not always necessary to treat a cavity by performing a root canal. In fact, patients who are consistently visiting their dentist for routine checkups can lower their risk for a problem that demands this procedure, as a smaller cavity can be identified and addressed after a routine dental exam. What you should know is that if a root canal is needed, it is important that you take the problem with your smile seriously. If you do not do this, bacteria can continue to spread through the roots of your tooth and create more problems for your well-being. Sunny Smiles is ready to meet with you if you think something is wrong with your oral health, and when necessary we can provide the appropriate restorative services.
1. A Severe Cavity
The longer it takes you to do something about an active cavity, the more likely you are to need root canal therapy to make sure the problem is completely treated. This procedure removes harmful microbes that gather within your tooth over time – they gain access thanks to the growing erosion of your enamel with an active cavity. By removing bacteria and unhealthy tissues, we can stop the infection from spreading any further, and we can make sure your oral health problems no longer cause you discomfort.
2. Treatment To Restore A Physically Injured Tooth
Treating a physically injured tooth can address more than just the visible effects of trauma. If you develop an infection because your enamel is cracked, or because of internal damage that occurs, we can provide the necessary work to stop the problem from growing any worse. After this work is done, we can provide a custom dental crown. For one of your visible front teeth, we can even supply a restoration that imitates your healthy tooth structure!
3. Treatment After A Previous Procedure Failed To Return A Tooth To Good Health
Sometimes, patients start to experience problems with a tooth after it has already been treated. In some cases, discomfort can persist after a cavity was treated. In a situation like this, you can come to see us for retreatment. This refers to a procedure where we care for a tooth that has already been through restorative work.
Talk To Sunny Smiles To Schedule Your Root Canal!
If you have a reason to believe that you might require root canal therapy for a tooth problem, know that our practice is here to help! We provide preventive and restorative services for families in and around the El Paso community. For trouble that is serious enough to cause an infection or internal damage, our practice can step in to provide support in the form of root canal therapy. To find out more, please contact Sunny Smiles at our Dyer St office in El Paso, TX by calling 915-859-7000.