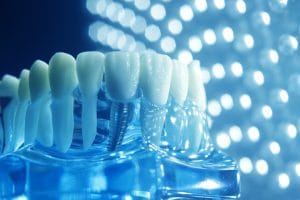 Typically, the process of placing and restoring dental implants requires more than one visit, and in some cases, months in between the implant placement and the restoration being added to the new tooth. However, your El Paso, TX, dentists offer a more convenient option with same-day dental implants! In today's blog, we're going to look at how we place them in one visit.
Planning Your Placement
First, we need to look at your smile. Often, tooth loss develops as a result of underlying oral health issues, such as periodontitis. Treatment may first be prescribed to address these issues and prevent complications for your new teeth. We then take detailed 3D images of your smile to plan the placement of your dental implants. A small screw-like device made from biocompatible titanium, the implant acts as a new tooth root when inserted into the jawbone.
Restoring Your New Teeth
Typically, the time between placement and restoration is three to six months, and at best could mean a period of wearing a temporary until your final prosthetic or restoration is ready. However, our team may be able to finish the entire process in one sitting for qualifying patients. After inserting the dental implant, we attach an abutment to secure the restoration, typically a dental crown, to address the visible portion of your smile with a lifelike option that can absorb daily bite forces and provide a dependable chewing surface. You don't have to miss a lot of work or school, no need for temporary, and the process reduces the time needed for recovery. Simply put, this is a comfortable and convenient method of addressing missing teeth.
Preventing Further Tooth Loss
Following your tooth replacement, we can help you protect remaining natural teeth. With routine checkups and cleanings, we monitor your smile and remove plaque buildup, and can recommend treatment when issues arise that could potentially threaten your smile. At home, you can brush twice daily for two minutes and floss nightly to help protect the health and stability of your smile. We also suggest enjoying a healthier diet and avoiding tobacco products. If you have any questions about same-day implant dentistry, or about steps to safeguard your smile, then please contact our team today. We're here to help our patients and their families enjoy a full and beautiful smile once more!
SUNNY SMILES IN EL PASO PROVIDES IMPLANT DENTISTRY
At Sunny Smiles in El Paso, TX, we can help address your minor or advanced tooth loss in as little as one visit for some patients. For more information on placing dental implants or reducing the risk of tooth loss, then contact our N. Zaragoza dental practice by calling 915-849-9000.