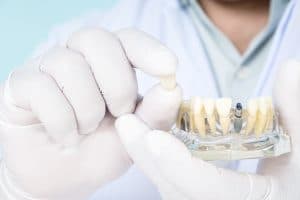 If you lose a tooth to a dental emergency, or as a result of advanced gum disease, then your oral health could suffer, not to mention your smile's appearance. One option for addressing tooth loss is to place one or more dental implants. Unlike other prosthetics, these can last decades, possibly even a lifetime! Your El Paso, TX, dentists explain what makes them last so long.
The Implant Portion
The implant portion is a small device similar in appearance to a screw, that is crafted from biocompatible titanium. We surgically insert this into the jawbone. Where it bonds with the bone tissue through a process known as osseointegration. They then act as new tooth roots. This stops the loss of jawbone density that often accompanies tooth loss, and stimulates the growth of tissue to support them and ensure your new teeth can stay in place for decades, possibly even a lifetime in some cases.
Creating Your Custom Restoration
Once we place your new tooth root, the next step is to address the visible portion of your new tooth. To do this, we attach an abutment to the individual dental implant and then place a crown. The dental crown will be crafted from strong and durable materials, like ceramic, to ensure it can absorb bite forces and provide a dependable chewing surface. The material is also translucent like tooth enamel and can be shaded to match the color of surrounding teeth. Once your crown is in place, your new tooth is complete. We will monitor your smile in follow-up visits to ensure you continue to enjoy a whole and healthy smile.
Bridges and Dentures
Typically, a crown-secured bridge lasts about 10 to 15 years, and a removable denture, whether full or partial, needs replacement every 5 to 10 years. This is because due to loss of jawbone density as a result of tooth loss, the jaw ridge changes shape and impacts the fit of your prosthetic. However, for people with more advanced cases of tooth loss, we can place multiple dental implants to secure a fixed bridge or denture that never slips, and could last for decades to come. In fact, sometimes we can complete the entire process in a day. If you have any questions about replacing your missing teeth, or about implant dentistry, then please contact our team today. We want to make sure our patients enjoy full, and beautiful, smiles.
SUNNY SMILES IN EL PASO PROVIDES IMPLANT DENTISTRY
At Sunny Smiles in El Paso, TX, our team wants to help restore your smile with a secure and long-lasting dental implant. For more information on lifelike tooth replacement choices, then contact our N. Zaragoza dental practice by calling 915-849-9000.