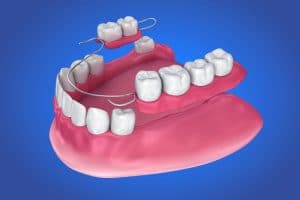 If you have lost one to three teeth in a row, you benefit from a bridge. For those missing all of their natural teeth, a full denture is the best solution. But what if your tooth loss falls in between these two ends of the spectrum? In today's blog, your El Paso, TX, dentist looks at how we address more substantial cases of missing teeth with a custom-made partial denture.
Creating Your Prosthetic
A partial contains new teeth, known as pontics, set into a base made from acrylic. The base is meant to mimic the appearance of gum tissue, offering a more lifelike appearance. To create your prosthetic, we start by taking detailed impressions and measurements of your smile, which we use to create a 3D model and better design and fabricate the final product. We employ lifelike materials for the new teeth, which can blend with the rest of your smile. These materials also absorb bite forces and can restore your ability to eat your favorite foods once more.
Removable and Implant-Secured
Removable options contain metal clasps that attach to the remaining natural teeth to secure your prosthetic. These may need to be replaced as the shape and the jaw ridge changes, and tend to last 5 to 10 years. However, we can also insert dental implants into the jawbone. They act as new tooth roots, shoring up bone tissue and preventing loss of mass and density due to the missing teeth. As a result, the jaw ridge doesn't change shape and your new teeth can stay in place for decades to come. A number of factors will decide if we go with removable or implant-secrued, including the presence of underlying oral health issues and the current state of your jawbone mass and density.
Don't Let Your Tooth Loss Stay Untreated
Having multiple missing teeth means that you could have trouble eating a variety of foods. Being forced to subsist mainly on soft foods could deny your body a number of helpful nutrients. Tooth loss could also cause remaining teeth to fit, causing misalignment and further impacting oral health by increasing the risk of tooth decay and gum disease. The strain on your jaw joints due to tooth loss has also been linked to higher risks of issues like TMJ disorder and bruxism (teeth grinding). If you have lost one or more of your natural teeth, then please let us know!
SUNNY SMILES IN EL PASO PROVIDES TOOTH LOSS SOLUTIONS
At Sunny Smiles in El Paso, TX, we know how to address missing teeth and prevent the issue from growing more severe and impacting your overall oral health. For more information on replacing your lost teeth, then contact our N. Zaragoza dental practice by calling 915-849-9000.