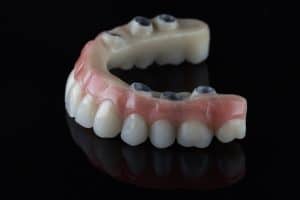 In our last blog, we explained how securing dental bridges with implants can offer a more secure and longer lasting dental prosthetics. In today's blog, your El Paso, TX, dentists will continue the conversation by looking at our implant dentures, which address more severe cases of tooth loss.
What Makes an Implant Option Different?
Typically, a full set of dentures, which contains all of the teeth on one or both arches, is held in place with suction. The prosthetic consists of the teeth and a gum-like base crafted from acrylic. A partial also contains lifelike teeth and a special base, as well as metal clasps to attach to remaining teeth and secure the new ones firmly. While effective, these do require replacement, as lack of tooth roots means the jawbone will gradually lose density and change shape.
With dental implants, we don't use suction or metal clasps. Instead, we insert multiple dental implants into each arch, and attach a custom prosthetic on them. The denture is then fixed firmly in place and doesn't need to be removed for cleaning or soaking. This also means it doesn't slip when you eat or speak. Since the implants act as roots and stimulate the growth of jawbone tissue, your jaw ridge doesn't change shape and your new dentures can last for decades to come!
Creating Your Lifelike Prosthetic
The actual denture, whether full or partial, will be designed to look natural, reflecting your facial structure. We often use ceramic or zirconia to craft the teeth, as this material is strong and can absorb serious bite forces. The material is translucent like tooth enamel and can be shaded to match the color of a natural smile. Each one is custom-made for our patients, and will be fitted carefully.
Protecting Your New Smile
Advanced gum disease, also known as periodontitis, can attack the tissues connecting the teeth and gums and lead to adult tooth loss. Likewise, this could compromise your dental implants and cause your new smile to fail. Routine care, including daily brushing and flossing and regular visits for checkups and cleanings, is essential for maintaining optimal oral health and ensuring your new teeth last for many years to come, possibly even a lifetime. If you have multiple missing teeth, don't let this lead to problems eating and speaking, or enjoying a good quality of life. Instead, contact our team to schedule a consultation. Let's find the best option to rebuild your smile and address your tooth loss!
SUNNY SMILES IN EL PASO PROVIDES REPLACEMENT TEETH
At Sunny Smiles in El Paso, TX, we would like to look at how we address gaps in the smile with a custom prosthetic. For more information on our tooth replacement procedures, contact our N. Zaragoza dental practice by calling 915-849-9000.