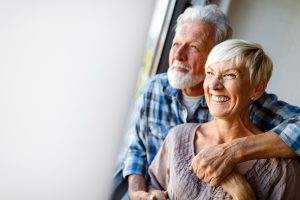 Typically, the dental implant placement takes more than a day. From placement to restoration could mean months for many patients! However, we know that most people would prefer to address their missing teeth in just one visit. Let's look at how your El Paso, TX, dentists provide same-day dental implant placement and restoration! We're always ready to help you enjoy a complete smile and better oral health.
Traditional Placement
A dental implant is a screw-like device that is actually surgically inserted into the jawbone, where it bonds with the bone tissue like a natural tooth root. Before we can address the new visible portion of your tooth, we need osseointegration to take place, a process that bonds the jawbone tissue and dental implant. In most cases, this could take anywhere between three and six months. At which point, we can add an abutment to secure a crown, or for those with multiple missing teeth, attach a custom-made prosthetic. However, instead of living with a gap in your smile as the area heals, or wearing a temporary prosthetic, we can offer a full set of teeth in one day. Before you know it, you can be smiling and laughing with confidence once again!
The Same-Day Process and Benefits
To see if you smile is ready for same-day dental implants, we will first perform a detailed exam using 3D digital technology, which lets us assess the state of your smile and the cause and extent of your tooth loss. We then plan the placement process in greater detail. After we insert the dental implants into the jawbone, we immediately attach a complete prosthetic, such as a denture or bridge. When you leave the office, you do so with a complete smile. No temporary, no gaps, and for many, recovery is a much faster process. You can then eventually eat your favorite foods again and smile with confidence. Without routine daily care you can help ensure these new teeth remain strong and bright for many years to come, possibly even a lifetime! If you have any questions about addressing tooth loss, then contact our team today. We can examine your smile to choose the most appropriate option to help restore the function, beauty, and health of your smile.
SUNNY SMILES IN EL PASO REPLACES MISSING TEETH
At Sunny Smiles in El Paso, TX, we would like to help you obtain a new and full smile, often in as little as one day. Whither you have one missing teeth, or have lost a vast majority of them, we can help you obtain a full and functional smile once more. For more information on replacing missing teeth, contact our N. Zaragoza dental practice by calling 915-849-9000.