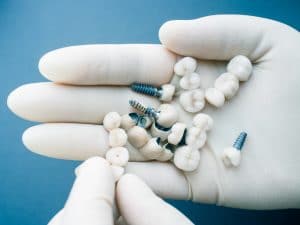 That's a good question, and one we've had quite a few patients ask. After all, who doesn't want to leave the office same-day with a full and beautiful smile? In today's blog, your El Paso, TX, dentists will take a look at how we place and restore dental implants, and whether same-day placement is possible. Find out if you could qualify for this unique tooth replacement option!
Who Qualifies?
We need to look at a number of factors to see who qualifies for implant placement, let alone the same-day option. First, we need to assess whether you have gum disease. The advanced stage of the disease, known as periodontitis, could lead to loose or missing teeth and compromise your dental implants. We may need to first manage this underlying heath issue before moving forward. We also look at the stability of your jawbone tissue. When we lose teeth, the body may suspend the flow of key nutrients to the jawbone around a lost tooth, causing the bone tissue to break down over time. A bone grafting procedure may be needed to strengthen your smile and secure a new tooth root.
Same Day vs. Traditional
A traditional dental implant is inserted into the jawbone via oral surgery. The area will then need to heal and allow for the new tooth root and jawbone to bond, a process known as osseointegration. The process could take between three and six months. At this point, we can attach a restoration or a denture to complete your smile. With same-day however, there is no waiting period of osseointegration. Instead, we insert the new tooth roots and attach a completed restoration in the same visit, so you leave with a whole smile. To see if this works for your smile, we will take a series of digital images to create a 3D model of your smile and plan the process down to the smallest detail. There will then be thorough aftercare instructions to protect your tooth roots as they begin the bonding process, avoiding unnecessary pressures.
Maintaining Your New Smile
For the most part, you will care for your new teeth just as you would natural ones. At first, you will need to follow our specific instructions to ensure successful placement. From there, you begin brushing and flossing them as you would natural teeth, and seeing us every six months for an exam and cleaning so we can monitor your new smile and ensure optimal oral health.
SUNNY SMILES IN EL PASO ADDRESSES TOOTH LOSS
At Sunny Smiles in El Paso, TX, we want to ensure adults continue to enjoy whole smiles and optimal oral health. If you have question about dental implants, then please call our East El Paso location on N. Zaragoza Road at 915-849-9000!