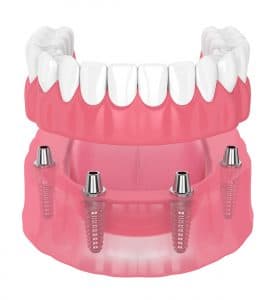 In our last blog, we briefly covered how dental implants help replace missing teeth, returning smiles to optimal function and health. But what if you have lost all of your teeth, or at least a vast majority of them? In today's blog, your El Paso, TX, dentists explain how we can offer a complete fixed denture with just four dental implants.
The Dangers of Complete Tooth Loss
Losing the majority of your teeth could impact how you eat, forcing you to rely mainly on soft foods and depriving our body of essential nutrients in the process, harming your overall health. In addition, speaking clearly could be difficult, leading to problems in social situations. The lack of tooth roots means the body will no longer send key nutrients to the jawbone, so the tissue is going to start breaking down and causing an aged appearance, such as sunken cheeks and a ptotic chin. Addressing your tooth loss, even if it's total, could help preserve your smile and facial structure, and also improve your overall health as well.
The Benefits of Implant Dentures
Traditional dentures rely on suction to stay in place. They don't stimulate jawbone tissue growth and over time, they can further the breakdown of the jaw ridges and facial structure. However, by inserting dental implants, we stimulate the growth of jawbone tissue, as the body accepts these titanium implants as natural tooth roots. Facial structure is preserved, and your new teeth could potentially stay in place for decades, possibly even a lifetime, with proper care and attention. After placement, we attach the prosthetic to them, which fixes them in place. The dentures never slip during speech or meals, and stay in place firmly. The prosthetic itself will be created from detailed impressions and images we take of your smile, and crafted using lifelike materials to ensure a natural appearance.
Placing All-On-4®
Traditionally, dental implant dentures rely on at least six to eight implants per arch to stay in place. However, for those that have lost jawbone tissue that could otherwise disqualify them from receiving dental implants, we can use the All-On-4® system. With just four per arch, we can support a full prosthetic that can absorb bite forces and return function and beauty to your smile. If you have any questions about addressing your missing teeth, then please contact our team today to schedule a consultation.
TALK TO SUNNY SMILES IN EL PASO ABOUT TREATING TOOTH LOSS
At Sunny Smiles in El Paso, TX, our team understands the importance of addressing tooth loss, whether minor or severe. If you have questions about implant dentistry, then you can reach our East El Paso dental practice on 10039 Dyer St., at 915-859-7000!