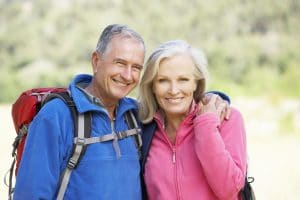 When you think about how much trouble one missing tooth can cause an individual to experience, it should be easy to see just how serious it can be for someone to lose all of their upper or lower teeth. If this is already a problem affecting you, then imagining is no longer necessary. You can be well aware of how advanced tooth loss can impose drastic limits on your diet, and how it can hurt the way you look. Fortunately, your El Paso, TX dentist's office is prepared to help you make your smile complete again with All-On-4 implants to hold a denture in place!
Your All-On-4 Implants Can Keep A Full Denture Secure
As the name suggests, All-On-4 implant dentures rely on only four implants to hold a denture firmly in place. The placement of each implant is carefully determined, to make sure you have the best support possible. Having a secured denture can make biting and chewing easier. It can also make you more confident in your daily life, as you no longer have to worry that your restoration is going to slip or slide from its proper place, and create an embarrassing or uncomfortable situation.
Arranging Work To Make Your Smile Complete Again
Your dentist can meet with you to discuss the process of restoring your smile, even if you have serious problems that affect you. Dealing with advanced tooth loss first requires your dentist to check on the condition of your jawbone, and your periodontal health. Problems with jawbone deterioration occur when a person loses teeth. If the matter is serious enough, it can make the process of recovering your complete smile difficult. You can also require treatment for gum disease to make sure you are able to move forward with your implant placement. After the appropriate care is provided, your dentist can work with you to determine where to have your implants placed, and discuss the process of placing and restoring them!
Putting Off Prosthetic Dental Work Can Lead To Complications
If you want your dental work to go smoothly, resist any urge you have to put off treatment. Waiting to do something about a problem as serious as tooth loss can create new problems for you, and may make your recovery more difficult to achieve! It should be noted that even one missing tooth creates trouble for a person's dental function, and leaves them at greater risk for losing more teeth. The sooner you act, the sooner you can free yourself from the many troubles tooth loss can cause!
Talk To Sunny Smiles About All-On-4 Implants
Sunny Smiles in El Paso, TX is ready to help you restore your smile with All-On-4 implants! Our practice is proud to make this remarkable form of prosthetic dental work available to people in and around the area. To learn more, please contact our East El Paso office on N. Zaragoza Road by calling 915-849-9000!