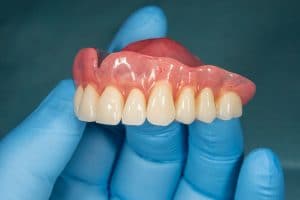 Losing all of your teeth, or even a vast majority of them, could lead to serious problems for your oral health and negative changes to your appearance and facial structure. To return your smile to optimal beauty, function, and health, your El Paso, TX, dentists may suggest a set of dentures. Find out how we create custom and lifelike solutions for our patients!
Removable Dentures
The most common options are known as removable dentures. For those with several missing teeth or gaps spread out across their smile, we may suggest a partial. The prosthetic contains new teeth set in a base made from acrylic, which looks like gum tissue. Metal clasps will attach to natural teeth and secure the new ones. For those with total tooth loss, a full set of teeth will be created and set into a base. Suction will anchor these in place. Both options will be custom-made for a natural appearance, and will be removable for soaking and cleaning.
Implant Supported Options
While effective, removable dentures tend to need replacement every 5 to 10 years, as the lack of tooth roots means the body stops supplying the jawbone with key nutrients. The tissues break down and the jaw ridge changes shape, meaning your prosthetics will need to be redone to continue to fit properly. However, if we insert dental implants, these act as new tooth roots and stimulate the growth of jawbone tissue, preserving your jaw ridge. We then create and attach a prosthetic, only this time it will be fixed in place and never need to be removed for soaking or cleaning. They will be more secure, never slipping, and could last for decades, if not a lifetime, with proper care and attention!
All-On-4®
Most implant secured options need between six and eight dental implants per arch to stay in place, which means if you've lost tissues due to tooth loss there may not be enough to support them. But with All-On-4® we only need four specially placed posts to support a full set of dentures! If you have any questions about tooth loss or improving the health and beauty of your smile, then please contact our team today to learn more. We can help you enjoy a smile you can't wait to show the world!
TALK TO SUNNY SMILES IN EL PASO, TX ABOUT PROSTHETIC DENTISTRY
At Sunny Smiles in El Paso, TX, we want to make sure our patients and their families continue to enjoy full and functional smiles. For people with minor or advanced cases of tooth loss, we can help with a dental prosthetic! For more information on addressing tooth loss, contact your El Paso, TX, dentists at Sunny Smiles on Dyer Street by calling 915-859-7000.